As 2021 comes to a close, it's time to reflect on the various things that I've experience this past year. Here we go, in no particular order:
Family
Once again, I am thankful to have a supportive family around me. As I have been working from home for almost two years, my parents have continued to help with the many things I often take for granted around the house, such as cooking food, doing the laundry, and vacuuming the house. In addition, my family has always lent me a hand on anything that came up, so I am extremely thankful for them. Our relationship has been pretty good, so here's to continuing into the new year.
Vaccines and Gatherings
Saying that "things will be back to normal" is a weird thing to talk about. Instead, what I will say is that I'm thankful to have been able to receive two shots of the Pfizer vaccine. With reduced transmission rates of COVID-19 during July and August, I was able to go back to doing the things I like, such as going out to eat lunch with family, going to the gym, and finally meet family and friends in person for the first time in a while! As I'm writing this, the newer strain of the virus has caused a recent spike of new infections, so I have to put a pause on going to the gym for the time being.
I also got to go back into the office for the first time in over 18 months, which was nice. I definitely miss seeing my co-workers, but until there's more people in the office and our company mandates, I don't think I will be going in too often. It's ultimately a waste of gas and time, compared to my current 30 second commute. 😀
Games and Virtual Hangouts
Aside from in-person gatherings, virtual ones continued to happen this year. Many of them revolved around games.
In one of my friend groups, we started playing Dungeons and Dragons. We finished one campaign and we're on to our second one at the moment. It's pretty cool that you can carve out your own adventure as a group. A lot of the gameplay is up to our imagination, which for me, is kind of hard, cause I lack imagination these days. Nonetheless, hanging out with friends once a week or every few weeks to focus on our campaign is neat.
In another friend group, we opted to play a multiplayer game called Overcooked 2. It's a casual game where we work collaboratively to make dishes as quickly as possible to score points. The game mechanics are relatively straightforward. We've been playing on and off every once in a while, and it's a pretty nice way to unwind after a long day at work.
Aside from group games, I also enjoyed playing solo games this year, albeit I don't think I really did play that much. I recently got into Genshin Impact after listening to their OSTs while working. I'm enjoying the gameplay and story so far, but it does suck up quite a bit of my time, not to mention it also has a gacha system that I'll be trying to stay away from. I already have iDOLM@STER Cinderella Girls Starlight Stage (deresute) to deal with, which I continue to play on my phone.
That being said, even Genshin and deresute have co-op/party modes, so I did occasionally join Discord calls and play together with friends, or just to talk. I am optimistic that this will continue to happen in the new year.
Relationships
In other news that nobody cares about except for me, I recently got back into a relationship with someone more than a friend. I've known them since 2014, and I hope to get to know them even more as time goes on. I'm still new to this sort of thing, so I'm still learning to communicate my feelings and whatnot properly. Without going into too much, we did take a break from our relationship last year, so hopefully this time around, we can work things out together :). This person knows who they are, and they hold a special place in my heart. Thanks for making the latter part of the year more fun and bearable, and hope to make more memories with you in the following year! <3 (please continue to help me with Genshin dailies :D)
Work Anniversary
This year saw me completing my second full year at my company. In the context of this year, I completed one bigger project and helped out with various customer escalations. Although I wished I had been able to complete another project at work, I have learned to set more reasonable expectations for myself. At the end of the day, setting too high of expectations for myself will just lead to burnout. After some challenging times at work last year, setting more realistic goals has helped keep my stress levels in check a bit. I also got the opportunity to mentor someone in the latter half of the year, which was a nice change of pace.
Working from home again this year has been challenging, for the same reasons as last year. Knowing when work is "over" for the day is something I'm still striving towards, but it has definitely improved this year. That being said, working from home has been nice, too: not having to commute is a huge time saver. I hope 2022 will continue with work from home or even consider a hybrid work model instead of reverting back to the office full time.
Music continues to heal the soul
Once again, I don't think I would have survived this year without music. This year, I listened to quite a bit of OSTs from Genshin Impact. I've listened to more music from the game than I have played the game itself, and this showed itself in my Spotify Wrapped for this year. Alongside that, a lofi playlist from my friend Majin got me through the days, as did Denonbu (電音部) music.
Aside from music on Spotify, I have other music I listen to that is tracked on last.fm. My top track this year is an iDOLM@STER Cinderella Girls solo single called #HE4DSHOT by Sunazuka Akira. Here's an MV recording I took with Komatsu Ibuki's second SSR from Starlight Stage:
Anime
There were quite a few I watched this year; some of them aired this year, while some aired a few years back and I only got to watching them now. If I had to pick a few of my favourites from the ones I watched this year, I would say Yuru Camp season 2, Goblin Slayer, and Uramichi Onii-san.
I liked the second season of Yuru Camp. Sometimes, I just want a chill anime to watch and unwind for the day: to forget about the stress of work and everything around you. Yuru Camp did just that for me. I miss going on road trips, perhaps I might explore the possibility again in 2022 if the COVID-19 risk is a bit lower.
Goblin Slayer was a more dark anime that I enjoyed in the later half of the year. I went into it not really knowing what to expect, but it was thrilling to watch in my opinion. There are some controversial topics it touches upon that would definitely not fly in this day and age IRL, but given it was a fantasy anime with goblins and whatnot, I found it to be quite enjoyable.
Finally, Uramichi Onii-san was a really random comedy I enjoyed. It's about this guy that works for a kids' TV show, and talks about random adult life things that were awfully relatable. As someone working full time now, this one really hits home.
Figure Collecting
Having had a stable income this past year, aside from saving and investing for the long term, I also added a number of figures to the collection.
One particular area of interest this year was diving into the pre-owned section of AmiAmi's site. This was because COVID-19 has continued to halt all Japan Post shipments from Japan to Canada, leaving DHL the only option to ship packages for me, and I preferred reducing the blow of DHL's high (but luckily fixed) processing fees per shipment by buying more. I've documented many of these finds in my previous posts, and will continue to do so for the foreseeable future.
As well, I also ended up going to the rabbit hole, literally. After buying my first bunny girl figure, Veronica, for my birthday, I ended up getting Eureka half a year later. As well, just this past week, I added Priestess from Goblin Slayer to the collection, for which I'll have a blog post some time later. 1/4 scale bunny figures are expensive to say the least, but they do have a certain aesthetic with their glossy bunny suit and fishnets that I find to be quite intriguing, especially on an original character or if it's of a character that you wouldn't expect to wear a bunny suit. This is a slippery slope to be on, so we'll see what next year brings on this front. 🙂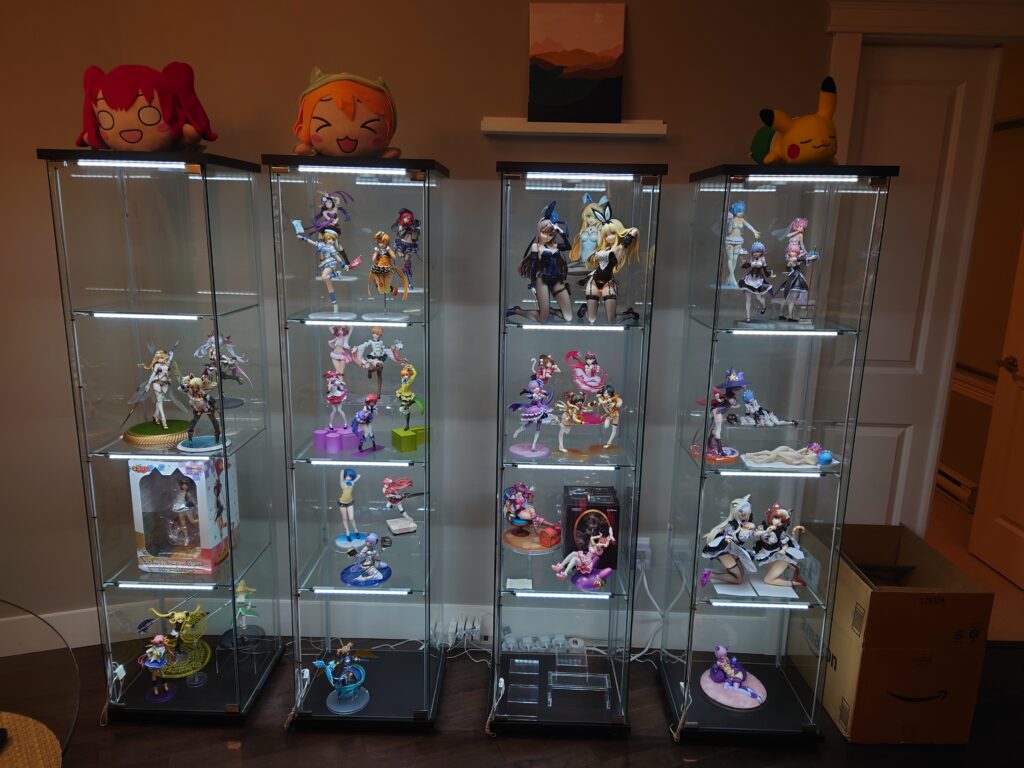 Moving Out
I might touch upon this in a separate blog post, but I moved out from my parents' place with my older brother this month. It's definitely a new chapter in my life, but we're only a few minutes away by car, so we'll still go back for dinner and whatnot. When the new year rolls along, I will continue to be working from home, although it will be from my new home. I'll have some new room/desk diaries coming some time in the new year, so be on the lookout for that. 😀
Conclusion
Well, that's all I have to talk about for 2021. For 2022, there are a few things I would like to try:
Budget figure spending a little bit better, as I went over budget by quite a bit.
Learn to cook more food at home.
Continue to oversee the SFU Anime Club's bot development to the best of my ability.
Besides that, I hope that despite the ups and downs that you may have had this year, your 2021 was relatively positive. Here's to hoping 2022 will be better!
Have a happy new year's eve, and see you in 2022!
Until next year!
~Lui