In August, I got a positive salary adjustment at work. To commemorate the occasion, the natural thing to do (of course /s) was to expand the figure collection. Now having owned one bunny girl, I contemplated on adding a second one to the collection. I did some browsing, and found another 1/4 scale bunny girl named Eureka. She is an original character illustrated by Tsunako-sensei, who is well known for her character designs in the Neptunia and DATE A LIVE series, to name a few.
Eureka's uniqueness as an original character and her outfit really clicked with me for some reason, so I started to see where I could find her. At the time, she was slated to be released in the following month, September. On AmiAmi, pre-orders were closed (as I expected), as were the other shops I've used before, such as Hobby Search and TOM.
In the end, I opted to use Buyee, shelling out 30.8k JPY (~$380 CAD using their horrendously bad conversion rate) to buy it domestically. She ended up getting delayed until late-October, but luckily, Buyee issued a "20% off international shipping to North America" coupon. She arrived at the Buyee warehouse just in time before it expired. I managed to add protective packaging (for an additional fee of 1500 JPY), given that I wanted to keep the box as pristine as possible, and ended up paying another 10.8k yen (~$120 CAD) to ship it back with DHL. Import tax plus handling fees totaled ~$60 CAD, so in the end, it cost ~$560 CAD to bring Eureka back.
To give credit where it's due, the folks at Buyee did wrap the entire figure and bonus tapestry with two layers of some pretty good bubble wrap. The shipping box sustained minimal damage, but any bumps and whatnot would've been taken care of by the bubble wrap, so I was quite satisfied. I forgot to take photos of how it looked inside the box, but it met my expectations, so if I had to buy a figure and ship it back with Buyee, I would add the protective packaging option again.
Anyways, below are some photos of how the box looks. Unlike Veronica, the previous bunny girl I got, this one doesn't come with a plastic window to take a peek inside. I think that's okay though, since it ensures that the box, which is actually some pretty chunky cardboard, will protect the figure itself very well.
Taking her out of the box, and the top plastic off, we will see the figure of Eureka herself. Eureka's head has additional padding, presumably to keep her in place. Her bunny ears are a separate insert: her bunny ear slot contains a smaller insert. I have heard from other friends that FREEing has started doing this; perhaps it reduces the probability of damaging them during transit. I presume that the insert is used in order to ensure that the bunny ear insert slot maintains its size and won't deform if stored away for long periods of time. Kudos to that.
And here she is out of the box and with her bunny ears attached. You can compare her with the illustration tapestry. Pretty close, I must say.
I'll start by looking at her bunny suit. She's got an all black, glossy bunny suit. Near her chest area, we will notice hints of a maid outfit. Given that this maid motif is white, it contrasts very nicely from the rest of the suit, and its texturing is great from any angle. One of my favourite aspects here are the areas near the buttons: the creasing portrays the "tightness" of the button holding the suit together. I think it drives home the fact that this is one erotic piece of clothing (who would've thought? /s). On the sides of the suit, we will notice that it is tightened together with laces, which have been recreated very nicely. Compared to the plethora of other bunny girls that FREEing has released (of which I also don't own), I think it gives Eureka a nice, distinct feel that you won't find from the rest. The maid motif continues on her forearms, where we'll see black cuffs with hints of white on the hand-side. On each hand, she wears black gloves.
On the topic of the black cuffs on her arm, we have a lot of bare arm and skin visible because Eureka is using her left arm to hold up her long, blonde hair. As such, we get a nice, bare view of her left armpit, which is pretty damn nice. With the right lighting, that sculpting looks superb: it's definitely another highlight that I like about this figure.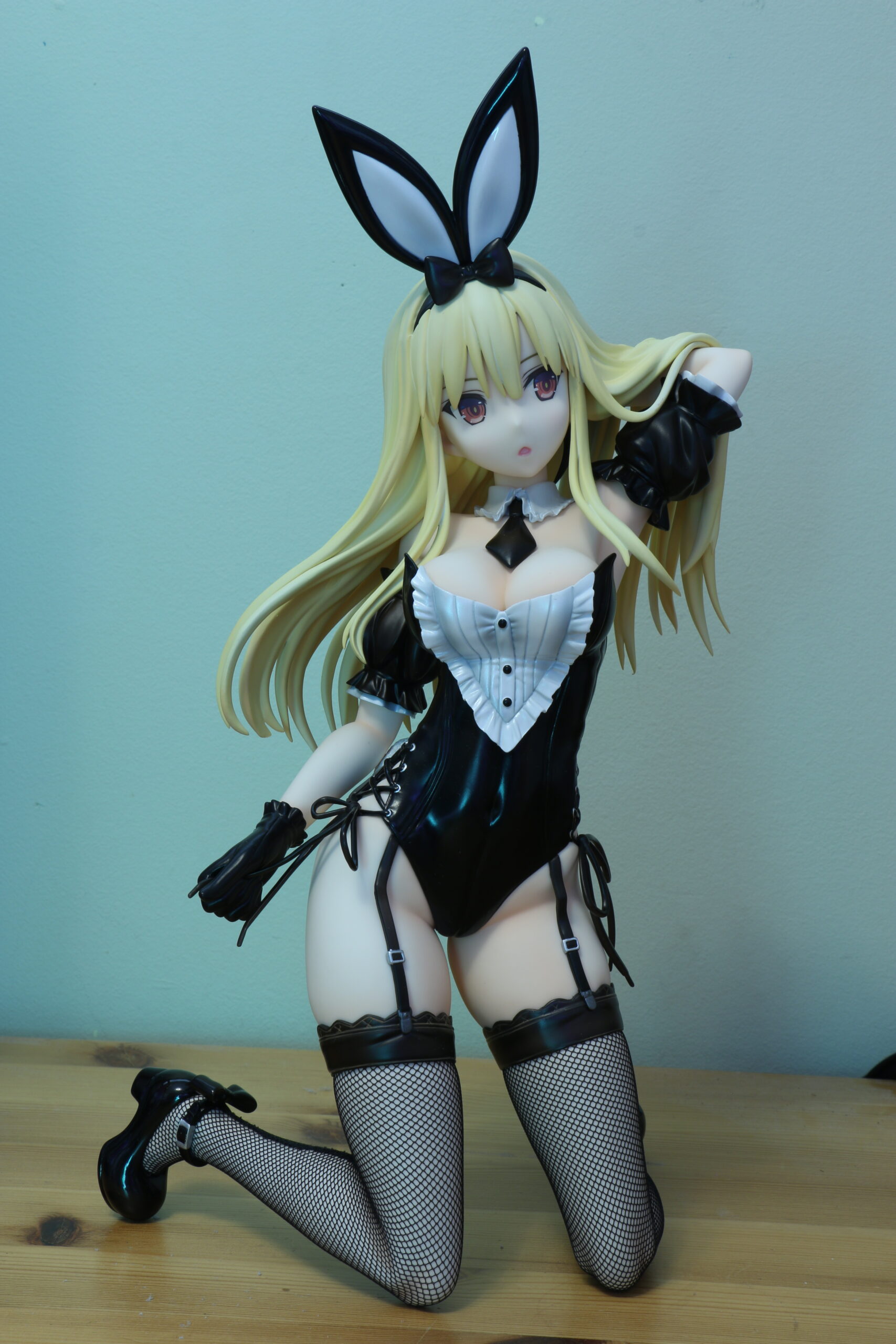 Moving downwards, we'll see her butt and legs. Eureka's real, fabric fishnets come up to mid-thigh, where garter belts run from her bunny suit to her socks on both sides of her legs. This actual fabric, although somewhat delicate, is something I believe makes a bunny girl figure stand out. I don't remember if I mentioned it when I wrote about Veronica, but the fine nets make the creasing around her knees, especially the back of her knees, stand out a lot. When you look at her from at different angles, the convergence of black around certain parts of her legs really help outline the sculpting.
To digress a bit here, FREEing has also recently re-released several B-Style bunny girl figures in a "bare leg" version (i.e. without the fishnets). I'm personally not a huge fan, since my skewed definition of bunny girls should be wearing those kinds of socks. That being said, maybe my opinion on that will change in the future, but that time isn't now. 🙂
Anyways, as we look on the upper portion of her legs, Eureka's thighs are super duper thick (or should I say SUPER DUPER THICC?!). They are accentuated by the fishnet sock cuffs that "squeeze" them, making them bulge out ever so slightly. This small, but important detail is another reason why I love looking at Eureka as I'm writing up this blog post. She just looks so damn nice! This "squeezing" of thighs was also quite similar to Gene. But enough of me just talking about it; I think the photos below help illustrate this point very well!
Eureka's feet are okay. Her heels are standard black, and there is no texturing on the bottom of her shoes. Her shoes are more rounded on the ends compared to those seen on Veronica. In addition, her ankles have cuffs around them, with a bowtie on the rear, which further adds to the maid outfit motif as seen throughout this figure.
Moving back up the figure and onto her back, we get to see Eureka's head. Obviously, the first thing we'll notice is her flowing, blonde hair. The sculpting here is done pretty well in my opinion. The hair "strands" are visible to an extent, and this is best shown with different lighting angles, or if you put her on a rotating stand, where you'll be able to see the shadows of the hair strands. We'll also see her left hand, where she is wearing a black glove. There is a bit of lacing on her glove, but the detailing there isn't the best; however, given that it isn't too noticeable until you take a closer look, I let it slide. You'll also see the same glossiness on the rear of her bunny ears, along with the groove in the middle. Looks great to me!
Overall, this rendition of Eureka is pretty amazing. This dynamic pose, paired with a unique, maid-like bunny suit, make this figure a fresh addition to anyone's collection. For me personally, my favourite part of this figure is the exceptional sculpting done on her thighs to make them "stand out". Perhaps I am more of legs/butt person after looking at this figure 🤔🤔🤔, but alas, I digress. There were a few minor imperfections visible on this figure, but apart from that, I am really happy about the way this figure turned out with respect to the original illustration by Tsunako!
Anyways, to end it off this post, I'll leave you with two full body shots of Eureka. I've also included a consolidated gallery of all the photos I used in this post for easier viewing. Hopefully that will be easier to look at as a whole. I might upload a turntable video as well, so maybe that will come later. I do have some stuff going on right now so I haven't gotten around to opening up the Azuki figure I got yet. It is on the backburner, but I am hoping to take a closer look at her some time in December, so do look forward to that. 😀
Until next time!
~Lui
Gallery