In recent years, the female characters from Re:Zero have been receiving a lot of new figures. Unsurprisingly, Rem has quite a number of figures announced (even today!) and released so far. I have a few figures of both Rem and Ram. Maybe I'll post about them some time in the future when I get a chance.
Anyways, in early 2021, I received my first work-related bonus. To commemorate the occasion, I decided to get one of the figures I had been eyeing at the time: the demon version of Rem from the Shibuya Scramble Figure line. The company behind this figure, eStream, was fairly new from what I gathered online on Reddit and MyFigureCollection. There have been numerous posts about quality control issues, and stories about figures arriving in shambles. Despite all the warning signs, I still decided to "bite the bullet" and give them a shot. I ordered it off of Tokyo Otaku Mode (TOM) back in early February 2021.
At the time, the release date was slated for September 2021, but due to COVID really "throwing a wrench" into the shipping environment, I waited until this past November (2022) to finally have it shipped over. I really appreciate the folks at TOM for holding onto EMS packages until it finally came back for folks like me in Canada. They did send me the occasional "Hey do you want to ship this to Canada via FedEx?", to which I politely declined after seeing the additional ~$95 USD charge on top of the already $40 USD I had already paid (note: this really hurts when converted back to CAD at 1 CAD = ~0.73 USD).
Anyways, here's the box she came in. I definitely can see why the exorbitant shipping charge was so high: the box was huge!! The actual figure box was contained inside the manufacturer's shipping box, which was packed in an actual shipping box sent by TOM with a lot of paper inside to keep it from moving around. Taking a look at the actual shipping documentation on the package, the actual cost of shipping was roughly 15000 JPY, or ~$150 CAD now that JPY/CAD is slightly 1 CAD to 101 JPY.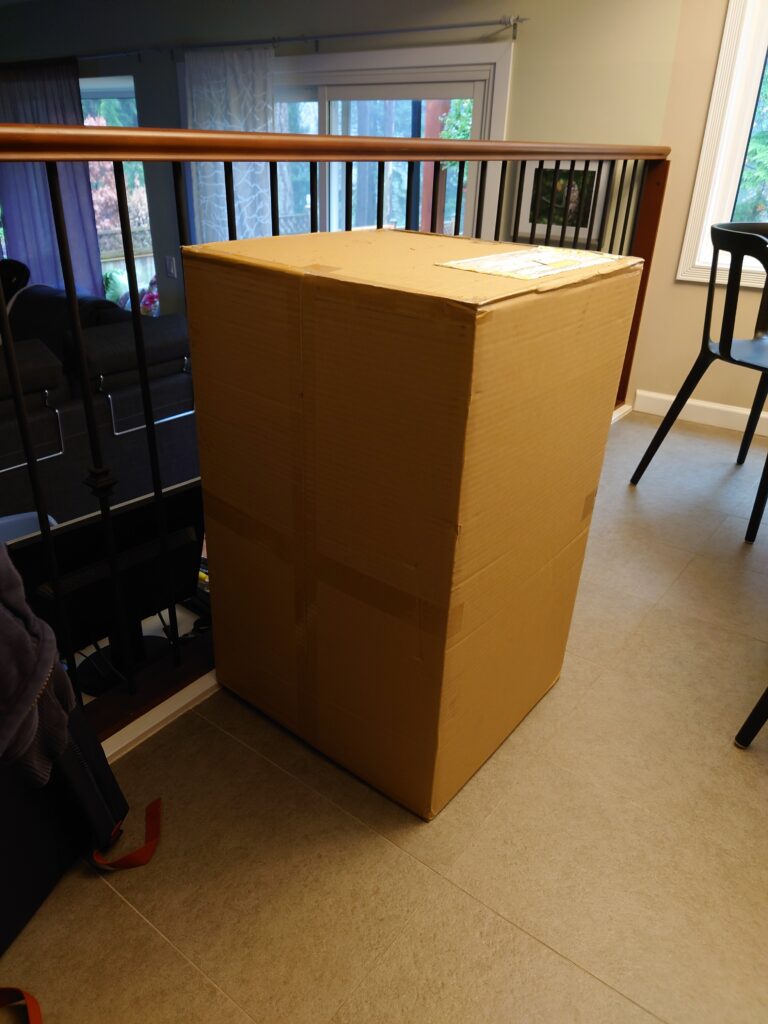 The actual figure box is pretty plain: purple all over with some white text and logos. It is quite big, so I've included an apple as scale for a size comparison context. I kind of wished they put at least a photo of Rem to make the box stand out.
Opening up the box, we'll see Rem in the blister pack. Since she is very heavy, there was a piece of foam on the bottom of the base. The base was sprawling inside, and taking her out, the only damage sustained was a small piece of her headpiece coming detached. Fortunately, it was a clean break, so it can be reattached without any issues. For now, I used a little dab of blue tack to attach it back. It's really not that noticeable so I can live with it. A few effect pieces on the base and her morning star come detached, and putting them into the base were relatively straightforward as well.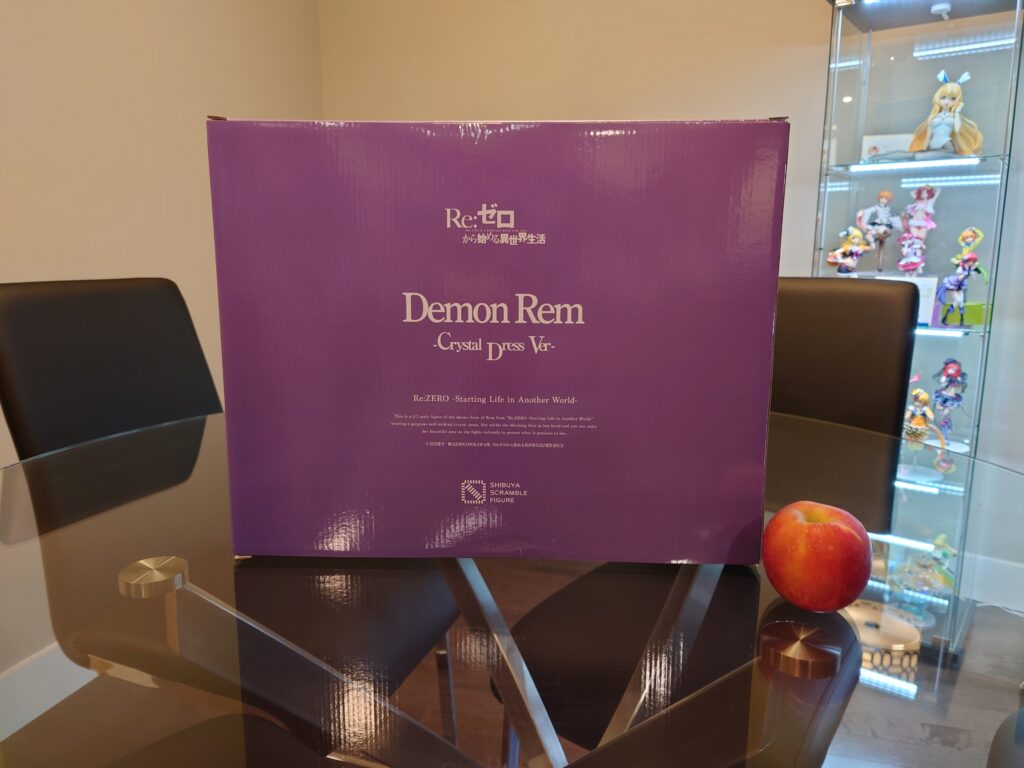 Since this figure of Rem is quite heavy and seems extremely prone to damage, I put her straight into the display case. She actually wobbles ever so slightly, so I also placed a tiny piece of blue tack near the front of the base to stop it. This is what she looks like with everything assembled together: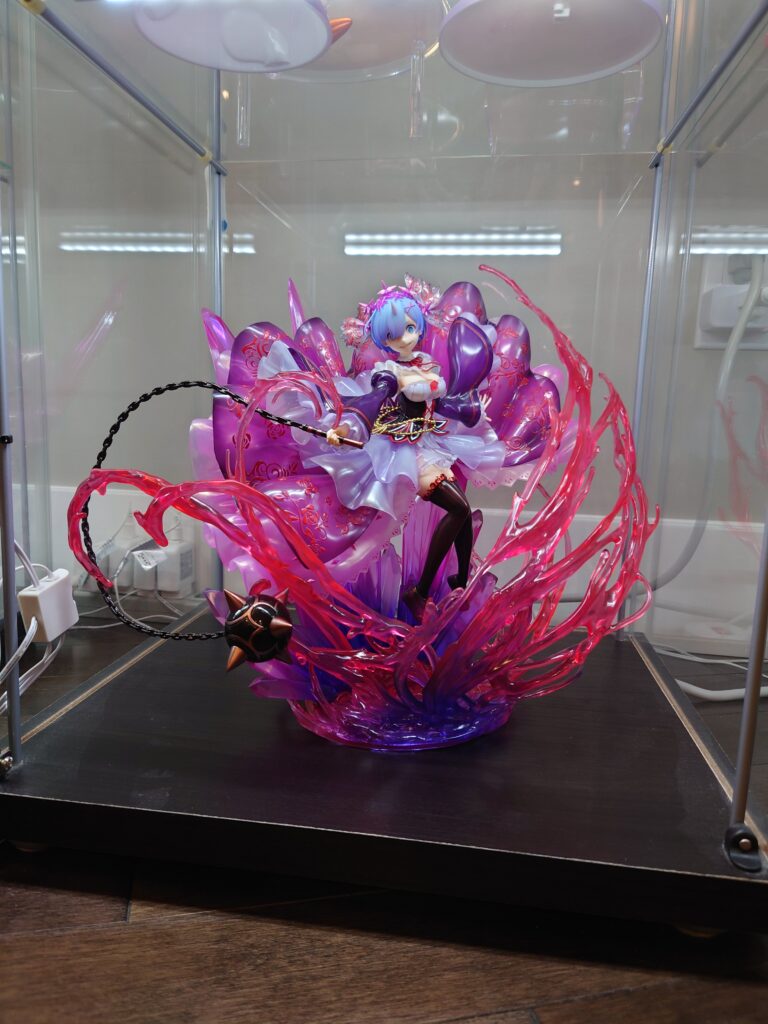 Rem's demon form is pretty much in full swing. Quite noticeably, Rem forgoes the soft demeanour seen in her other figures, and instead has an evil grin with a death stare that looks like she enjoying it: she really gives off the yandere yibes. As evident in the base, the evil demon motif is prevalent with all of the red, liquidity effects. Her dress has red rose-like patterns that complement the dark-purplish maid outfit.
If we take a closer look, we'll see her Rem's expression in a bit more detail. Her headpiece has five prominent shards. In this photo, the second one on the left is actually the one that broke off, and the blue tack there definitely sort of blends in with her hair. The one thing that's sort of hard to see is that Rem's bangs on the front are ever so slightly translucent, which I thought was a nice touch. Her two ribbons on either side of her headpiece are also translucent with a nice red flowery pattern.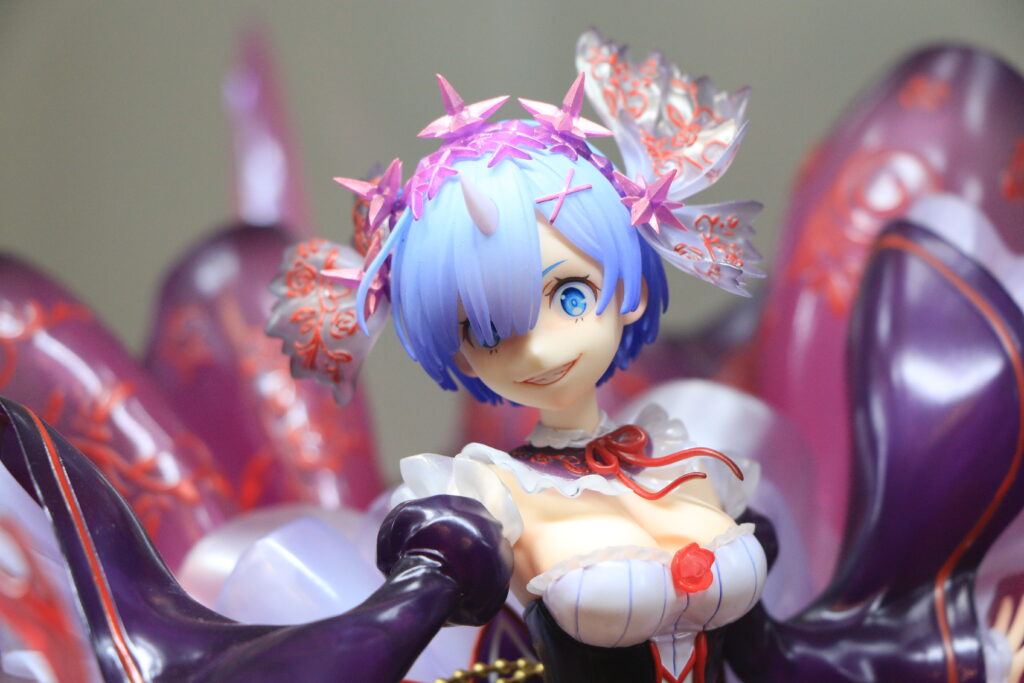 As we take a step back, we'll see the rose-like pattern on her dress a bit more. Her dress has a translucent gradient effect as well, which makes it really nice. The one thing that irked me with Rem's outfit is the maid outfit portion turned out slightly more glossy than I thought. It's sort of hard to see in the photos, but I think it would have turned out even nicer if the darker parts of Rem's maid outfit were more matte.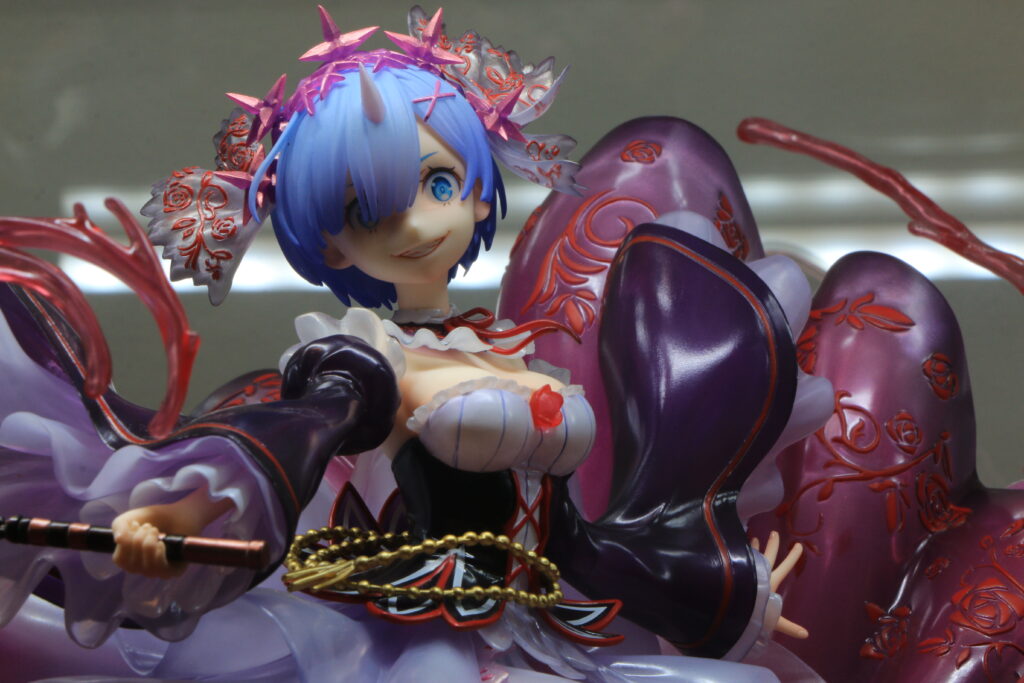 That being said, Rem's outfit is still nice. There are so many layers to it. There's the maid outfit, then two layers of white translucent "fabric", followed by two layers of her pinkish-red crystalline skirt. Each layer is very refined: from afar and up close, the ruffles and creases of her dress look nice and flowy (or is fluffy the word I'm looking for?). Coming back to the maid outfit, the detailing on the red laces near the front are well defined: they are definitely a lot nicer than the ones seen on Halloween Rem. The red rose in the middle of her chest is so-so, not sure how I feel about the uniform colouring on it, but the sculpting looks good. The demon motif continues onto her thigh highs as well: they look like red flames.
While we're on the topic of layers are very prevalent, I also want to draw attention her arm sleeves. We also got three layers there, and I really have nothing else to say on this front: the arm and clothing sculpt look great.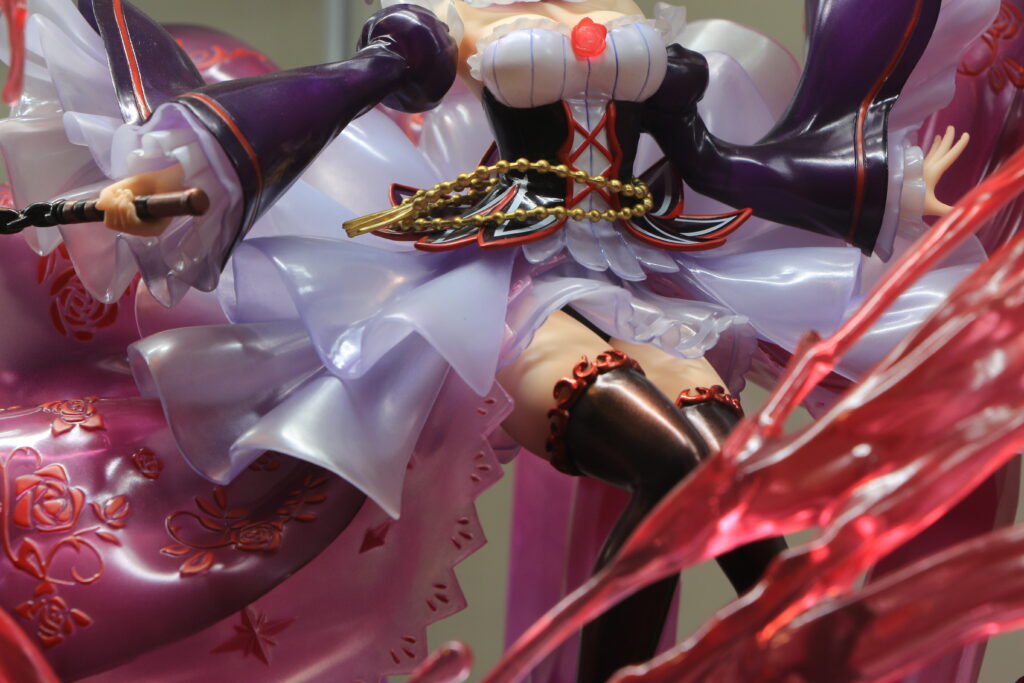 Zooming out a bit, I want to revisit Rem's dress. The white, see-through bits of her inner dress really contrasts the outer, darker portions of her dress. The intricate rose-like patterns along with the outer part of her dress add a nice level of detail.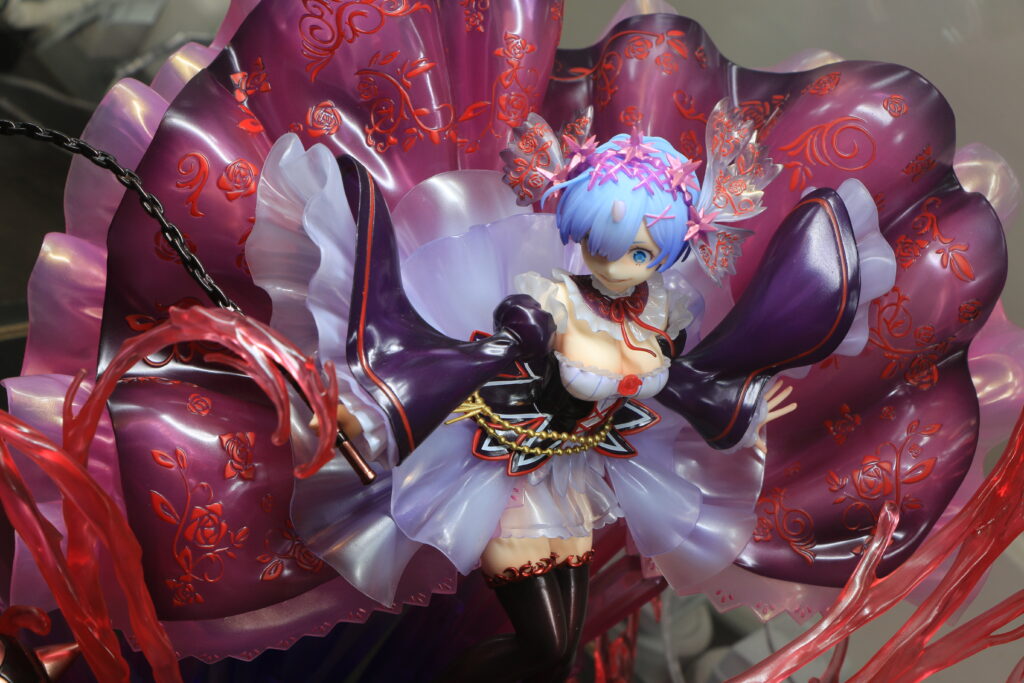 As we move down, we get to the base. The water-like effects are extremely fragile, but its "flowy" nature really complement the rest of the figure. There is a slight purple gradient near the front of the base which help change it up. Near the back we have crystal shards, one of which is holding Rem up from behind. Her morning star attached to one of the watery effects at the front with no issues.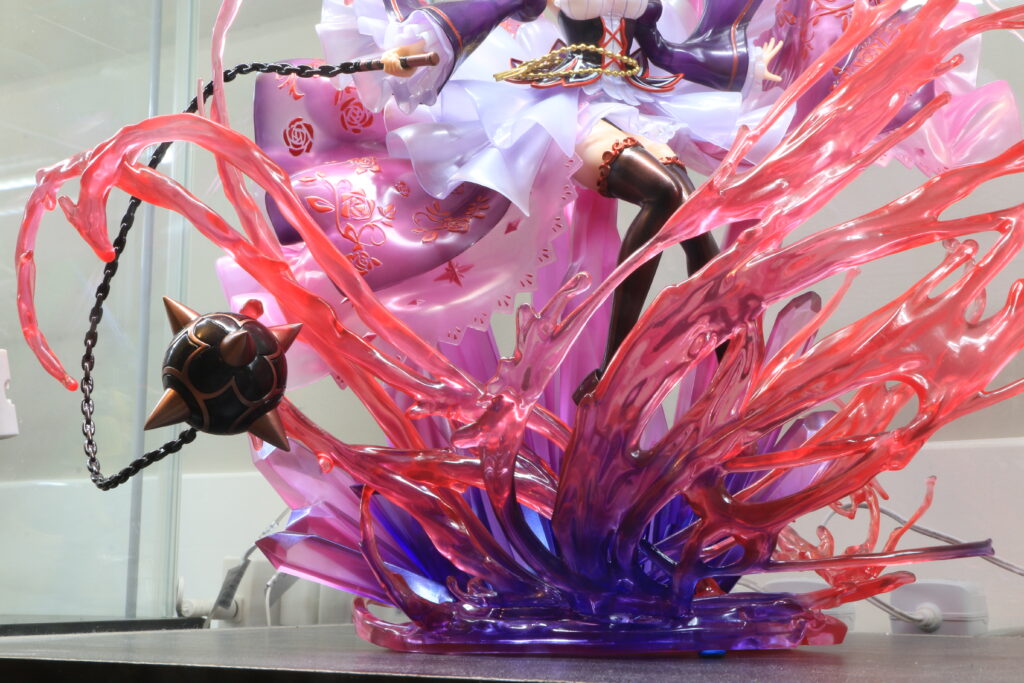 If there's one thing I didn't really like about this figure, then it would be her shoes. I found them to be quite underwhelming because the colouring is honestly plain compared to Nao, Gene, Cecil, or Lincia. The sculpting is okay, but the gradient colouring on her shoes just didn't really look all that great: I felt like her shoes shouldn't have been a mix of pink and purple. Since her shoes are tucked away behind the effects from the base, it's not super noticeable.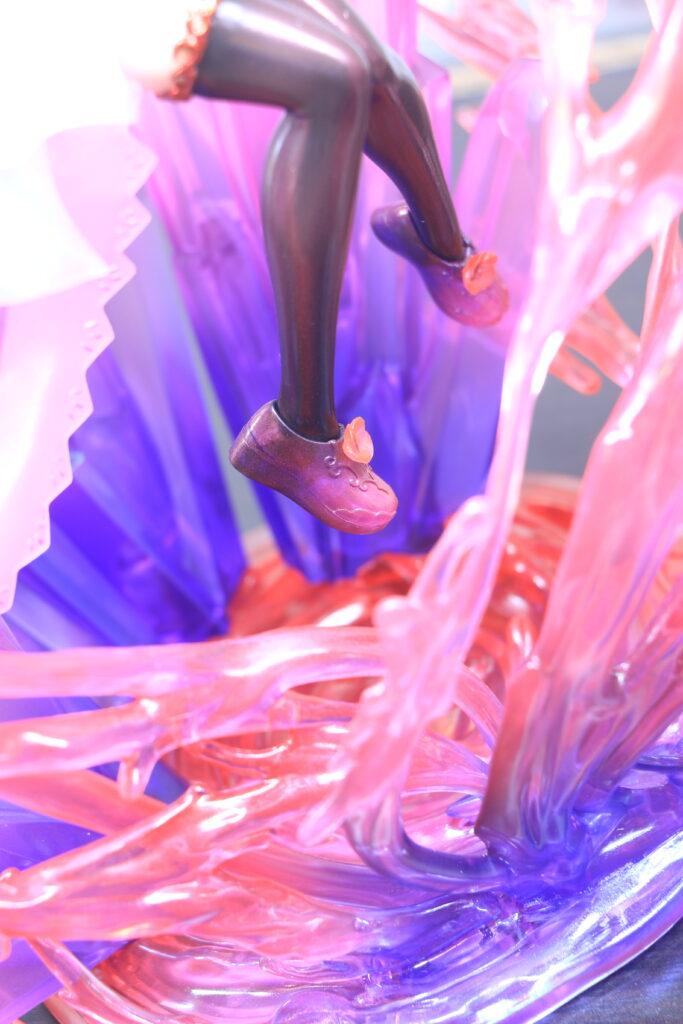 Overall, this figure is a nice centrepiece addition to my collection. The sculpt and use of translucent plastics really portray Rem in a lively, dynamic pose. The colouring work of Rem's maid outfit are clean and displayed front and centre, but I felt that the less visible parts of her suffered from slightly disappointing detailing. While I still think this rendition of Rem came out really nice, the number of extremely fragile parts really kept me from trying to take more photos. It stressed the hell out of me when trying to take her out of the box. The fact that only one small piece broke is honestly quite a miracle in itself, and I'm not sure if I'm willing to take another gamble on this type of figure again in the near future.
Anyways, that's all I got this time. I have a number of figures on pre-order this year, of which at least four of them are 1/4 scale bunny girl figures, and some other 1/7 and 1/6 scale figures, some of which I hope to at least write about.
Until next time!
~Lui
Gallery