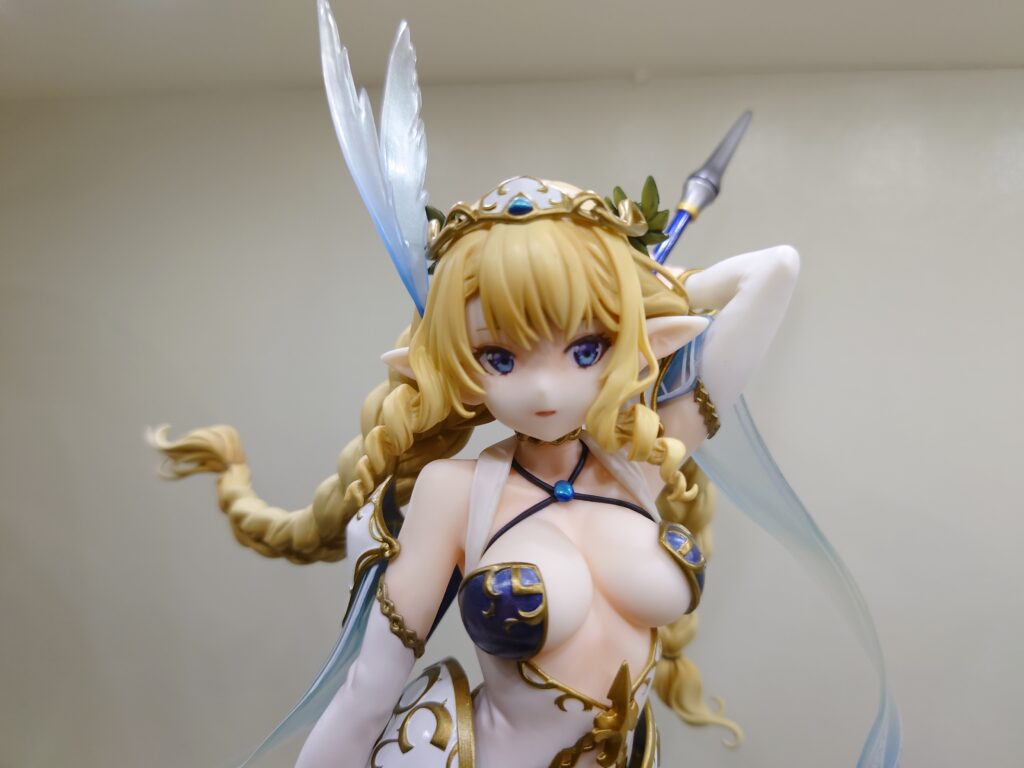 I started writing this blog post in July 2020. In early June, I saw the Elf Village Lincia (リンシア) figure come out for pre-order on amiami. I saw the previous two Elf Village figures Siika (Shiika) and Archeyle a while back, as well as the more recent fourth villager Priscilla, but Lincia really stood out to me. I was on the fence on whether to pre-order her, but some stuff happened in life and my NEKOPARA Coconut dakimakura order was cancelled by the shop I ordered at, so I ended up ordering Lincia.
Since this would be my first figure from this Elf Village series, I decided to look it up in a little more detail. The figure company responsible for Lincia's release is VERTEX, and judging from images of the previous two figures in the series, the quality looks really good. She is based off an illustration by Parsley-sensei, and looks like this:
I don't know about the previous two, but her demeanour is enchanting. I ordered the limited version from amiami, which comes with:
Shy/embarrassed face part.
Special base.
A3 size wall scroll.
Recently, I found a YouTube channel called TOYKAN, which features various figure-related videos. This one here is an interview with Lincia's colour finisher, Sumita Kazuhiro. I don't fully understand everything that they're talking about, but Lincia is his favourite of the four villagers that have been introduced so far, and I think I couldn't agree more 🙂
This next video shows Lincia's colouring process by Sumita-san. This was actually my first time seeing this in more detail, but the colour mixing and spray painting is really intriguing. I know some of my other friends that build gunpla also use spray paint, but seeing someone do the same for a figure is really neat. It just goes to show how much effort is required for colouring a figure, not to mention sculpting a figure itself.
Masking is pretty intense, too. For example, for Lincia's weapon, it looks like masking tape, solution and putty were used. It allows paint to be selectively applied to different areas, analogous to what can be in, say, Photoshop. I think today was the day I realized why masking tape is called masking tape! I guess it never clicked with me before.
I've preordered figures for various reasons: I know the character from a particular series and like, or I've had previous experience with a figure company before and am impressed with their quality. This time around, it was the first time I pre-ordered an original character figure, so I am extremely excited!
After being delayed a month, and waiting for some other items in my order, I finally paid for it at the end of December 2020, and she was shipped after the new years. I received it a few week back, so here's some photos. Honestly really happy on how she turned out!
First, here are some box photos. For a 1/6 scale, her box is on the larger side.
Taking her out of the box, we get Lincia herself, with her spear on the right and the base on the bottom
Next is the figure itself. Lincia's spear comes detached, and her shoulder and waist elf pieces are detachable as well. The spearhead's two-tone colouring isn't super smooth, but that much I expected so not a issue for me.
And because this is the limited edition, she comes with a special golden base, an embarrassed face part, and an A3-sized scroll with the illustration by Parsley-sensei. I actually haven't put the embarrassed face on Lincia yet, I just really love her standard expression that I think I'll be leaving her like that as is for the time being.
Now she sits on my shelf, and I can admire her while I play games and write code. Truly a stunning figure in my opinion.
All in all, this figure is absolutely stunning. I think VERTEX has great quality control: I honestly have no complaints on this figure whatsoever. Lincia came out really nice, so I'm excited for one of VERTEX's announcements to materialize into a figure: another elf villager named Merum. And I guess I'll end it off with a picture of Merum from VERTEX's official site.
Until next time!
~Lui
Update: I also realized that Lincia is a cast-off: her breast plates are removable, but I won't post photos here 😀