This past April, I had my semi-annual performance evaluation that turned out to be positive. To help with the self-morale boost, I was on the lookout for another figure to add to the collection. One figure I stumbled upon was another Elf Village figure from VERTEX: the 8th, to be exact. She is a busty elf girl named Cecil (セシル), and is the older sister of the 5th elf villager, Kukuru, which I don't have. There was something about her pose that screamed "Hell yeah, that's me: I'm Cecil!" that made me contemplate about her for a few weeks. Seeing that I really enjoyed adding Lincia to my collection and VERTEX's quality was very good, I decided to give in to my desires and placed a pre-order right before the reservation cutoff on AmiAmi. Similar to Lincia, I opted for the Antenna Shop Limited Edition, which featured a special artificial grass-like main base with a gold-coloured outer base, a swapable troubled face expression, and an A3-sized wall scroll.
Fast forward to late-August, I received the invoice, which I promptly paid, and received her in early-September. Shipping to Canada is still a pain with DHL, at 7345 JPY (and on top of that, I have to pay their high customs clearance fee, WHERE IS EMS?!?). She came in a size 120 box. Taking her out of the shipping box, we have the figure box itself. The box size was almost the same size as Lincia's box, so it was no surprise that shipping was expensive. One small difference on this box is that VERTEX decided to note that the extra special base, face expression, and wall scroll are located inside, as indicated on the bottom right corner at the front of the box.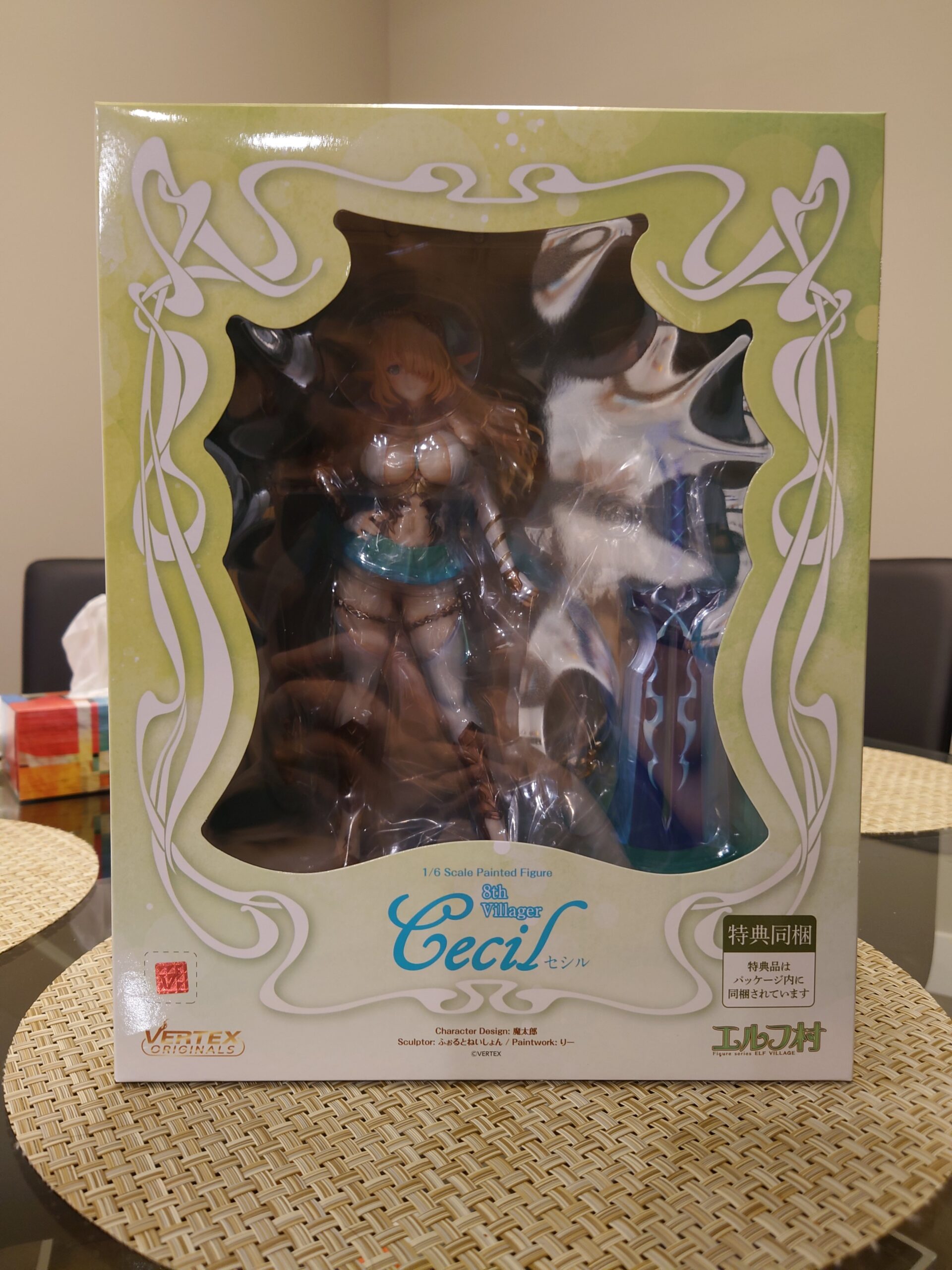 Packaging-wise, I think VERTEX did a good job at keeping the box size as compact as possible. On top, we'll see a few things. First, we have Cecil herself and her alternative bust part, included with the standard set. To the right, we have her alternative bust part, which is also included with the standard set, along with her huge handheld weapon (honestly don't know what to call this thing: a sword or an axe?). On the bottom, the standard base is replaced with the artificial grass base. On the underside, VERTEX stuffed the extras, including the gold-coloured outer base, the wall scroll, and her special face part. There didn't seem to be a bunch of wasted space inside while the plastic was still able to protect the figure itself. This kind of thing is quite crucial during times where shipping costs have skyrocketed, and I am thankful for that.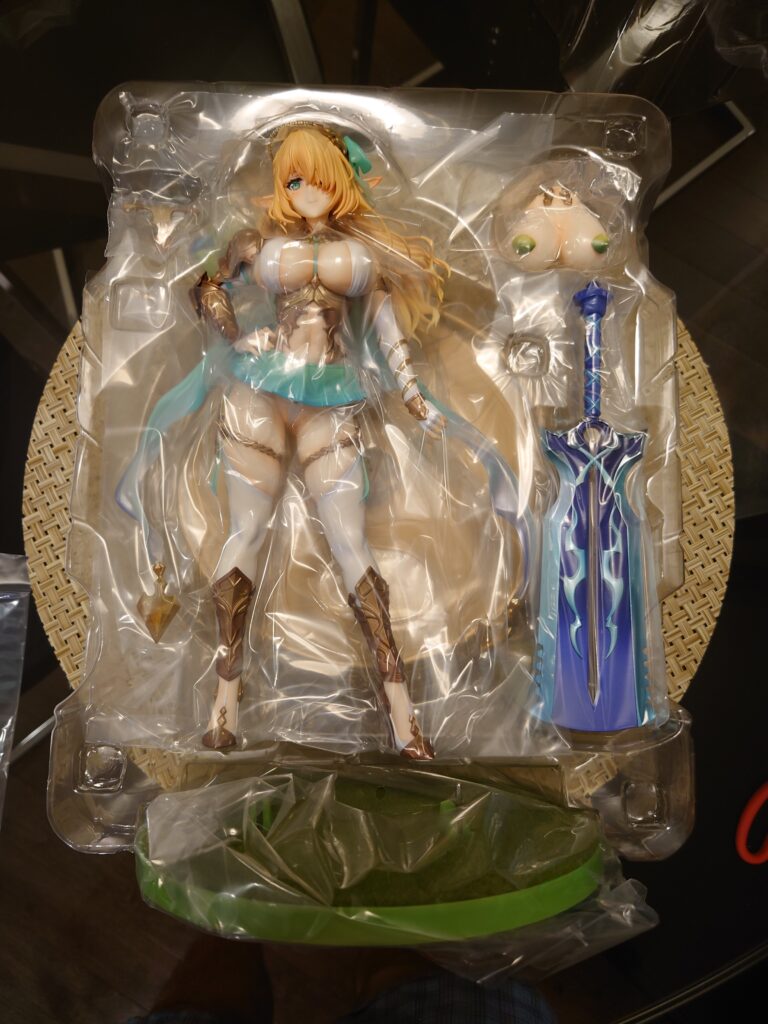 Taking her out of the box and assembling everything together, we have Cecil in full form. For the sake of this post, I won't be swapping with her bare, alternative bust and her alternative face parts. The folks at VERTEX have done it again: from the character design by Mataro-sensei (NSFW) to the sculpting by Fortunation-sensei and colouring by Lee-sensei, the execution of this figure from start to finish is phenomenal. I don't know where to begin, so here's an overall view of Cecil: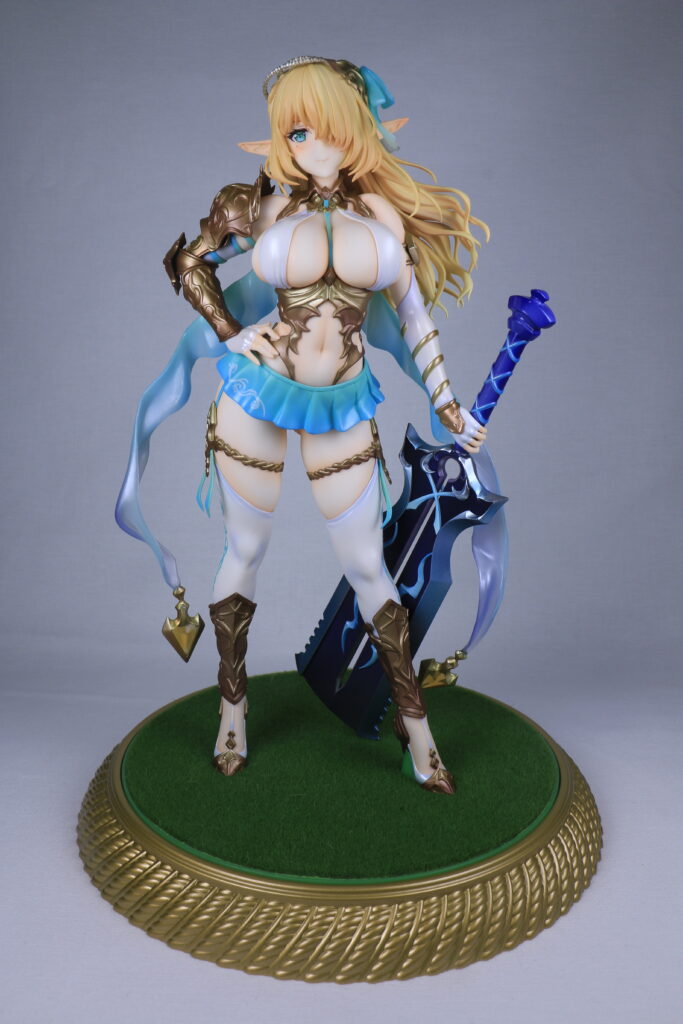 Here, we have another cute blondie striking an assertive pose while gripping on her large sword-like weapon like no big deal. Similar to the other girls in the Elf Village series, she's pretty "one with nature", boasting minimal clothing while looking absolutely prepared for battle or to defend her village.
Starting from the top, we have Cecil's headpiece and hair. She has a small hair braid on the back, which comes together in the middle to form a little ponytail, held together by a small, blue-coloured band. The rest of her hair is pretty loose and free, flowing past her shoulders and down her back. On the left side of her hairpiece, there is a turquoise-coloured bow, with the ends tapering off into a more translucent hue. Even from the top, with or without the right lighting angles, it's pretty easy to see the amount of work that went into the colour shading. First, we have the hairlines near the braids with a stronger shade of blonde. Next, we'll notice the work to make the translucent shading on the bow, and finally, the overall shading of Cecil's hair near the ends, which are accentuated by that sculpting work. Even the tips of her ears are slightly pink, giving her that slight, embarrassed vibe.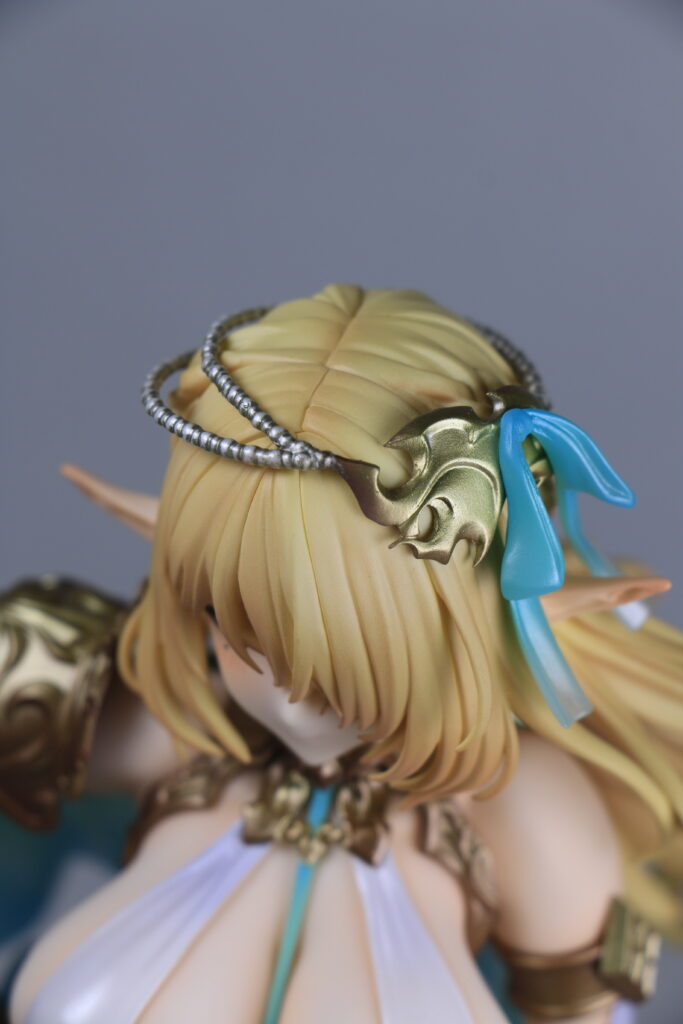 On her right arm, she has gold-plated armour. The patterns on the plating are well defined, and the paint has been evenly applied. If you adjust the lighting angles, you can really see that detailing on the plating. On her left arm, she foregoes that armour, and we'll see the rest of her arm from elbow to wrist covered in a white arm sleeve of sorts. In between her arms are her undoubtedly large breasts. The creasing on her skimpy breast coverings really bring out the tightness of them keeping her breasts in place. In addition, her side profile really shows them literally "hanging out" like no big deal.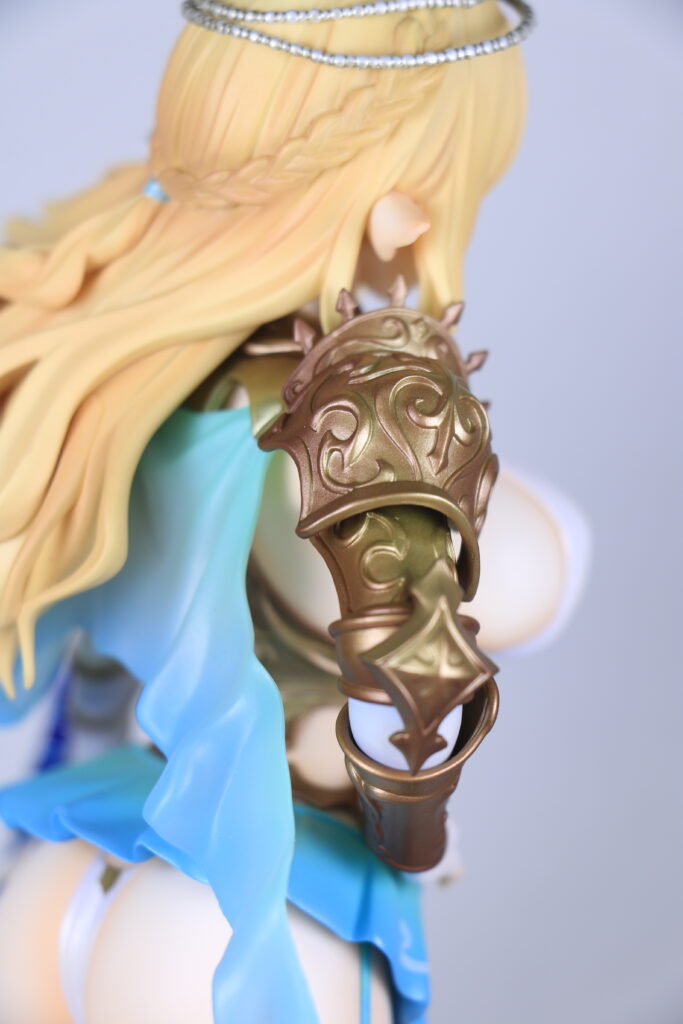 Below her busts, we'll have more of that gold-plated armour. Nothing more to say here, other than that pure detail. We'll also see her right hand striking that pose on her turquoise coloured skirt. Notice that the paint pattern on the skirt is spot on as well, and the sculpt work is very natural looking. Hopefully the lighting is bring that that out nicely below: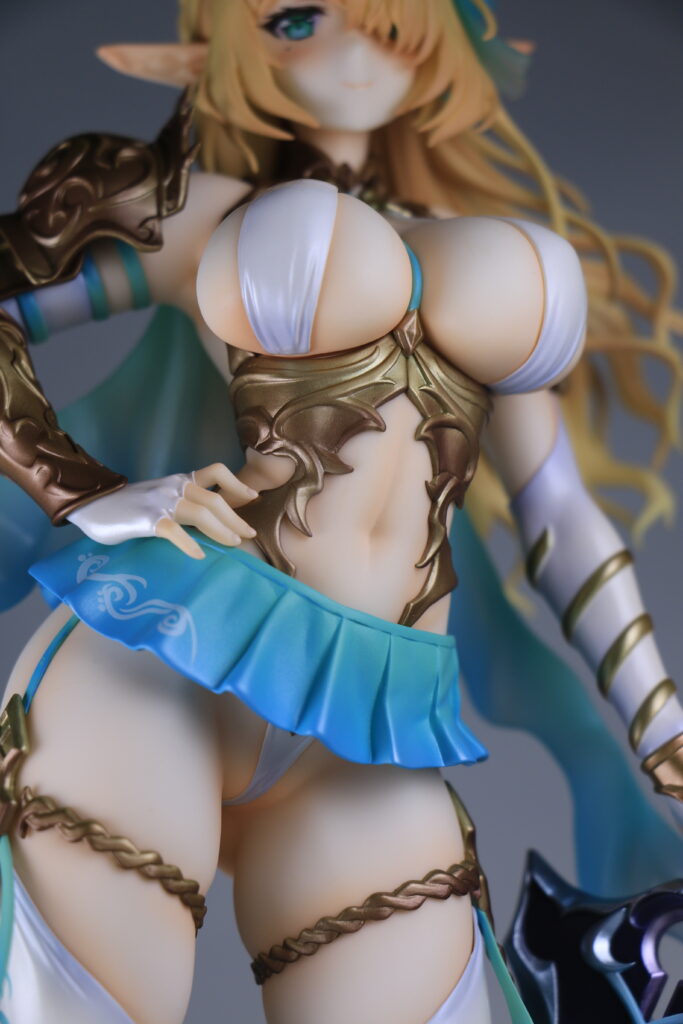 As we move down to her legs, we'll basically see her exposed butt along with some nice, thick looking thighs. The different lighting angles help capture that elegant sculpt line created by the shadows. Her tight thighs are accentuated by the golden cuffs and kneesocks, constricting them into bulging out between the two places. Colour shading on the kneesocks were done very nicely, with slight blue shades near the creases near the back of her knees and the part where it connects with a turquoise-coloured garterbelt-like thigh cuff along each side of her body and tied together with a nice blue ribbon.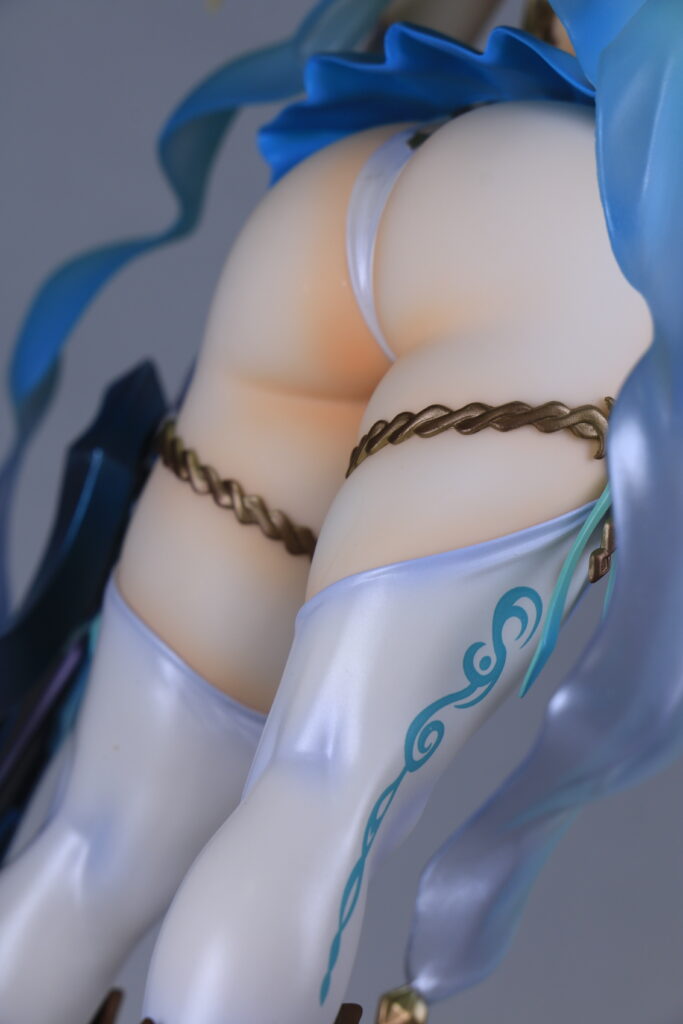 Moving towards the base, we'll see the bottom half of her legs. Once again, we have more armour plating, reminding me of the time when I had to wear shin guards while playing soccer. Just like Lincia, she's also wearing heels. It's very weird, I feel like Cecil and the rest of the elf villagers must be super nimble cause I can only imagine heels would make combat and protecting their village difficult, but who am I to judge? 🙂 That said, I feel that heels add an interesting juxtaposition between the combat readiness of requiring relatively quick reaction times to swing her weapon around and the impracticality of heels for mobility.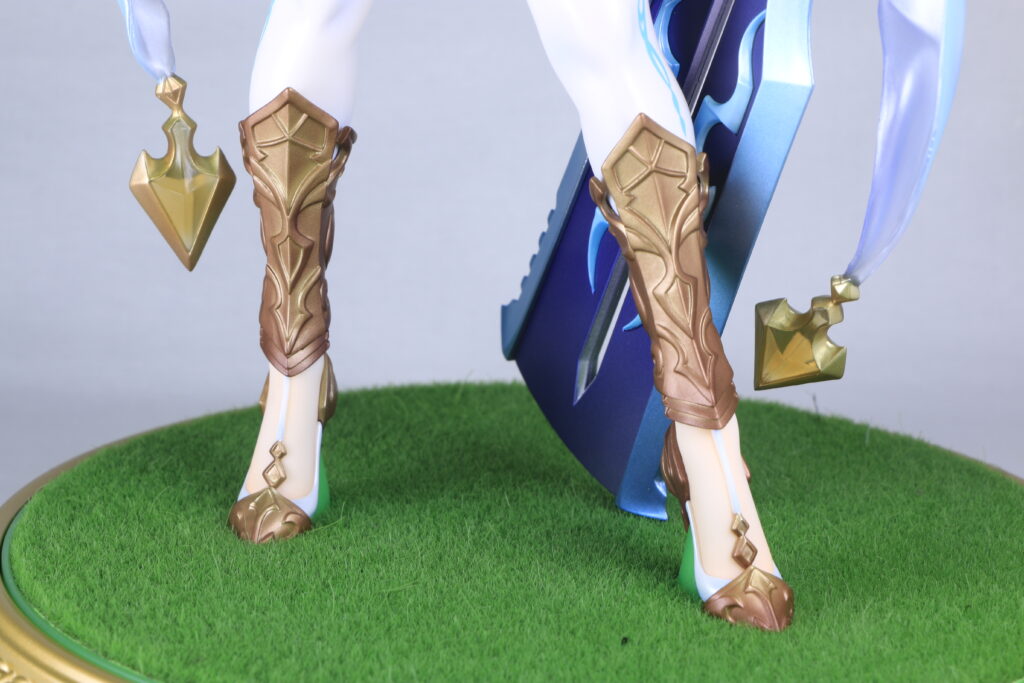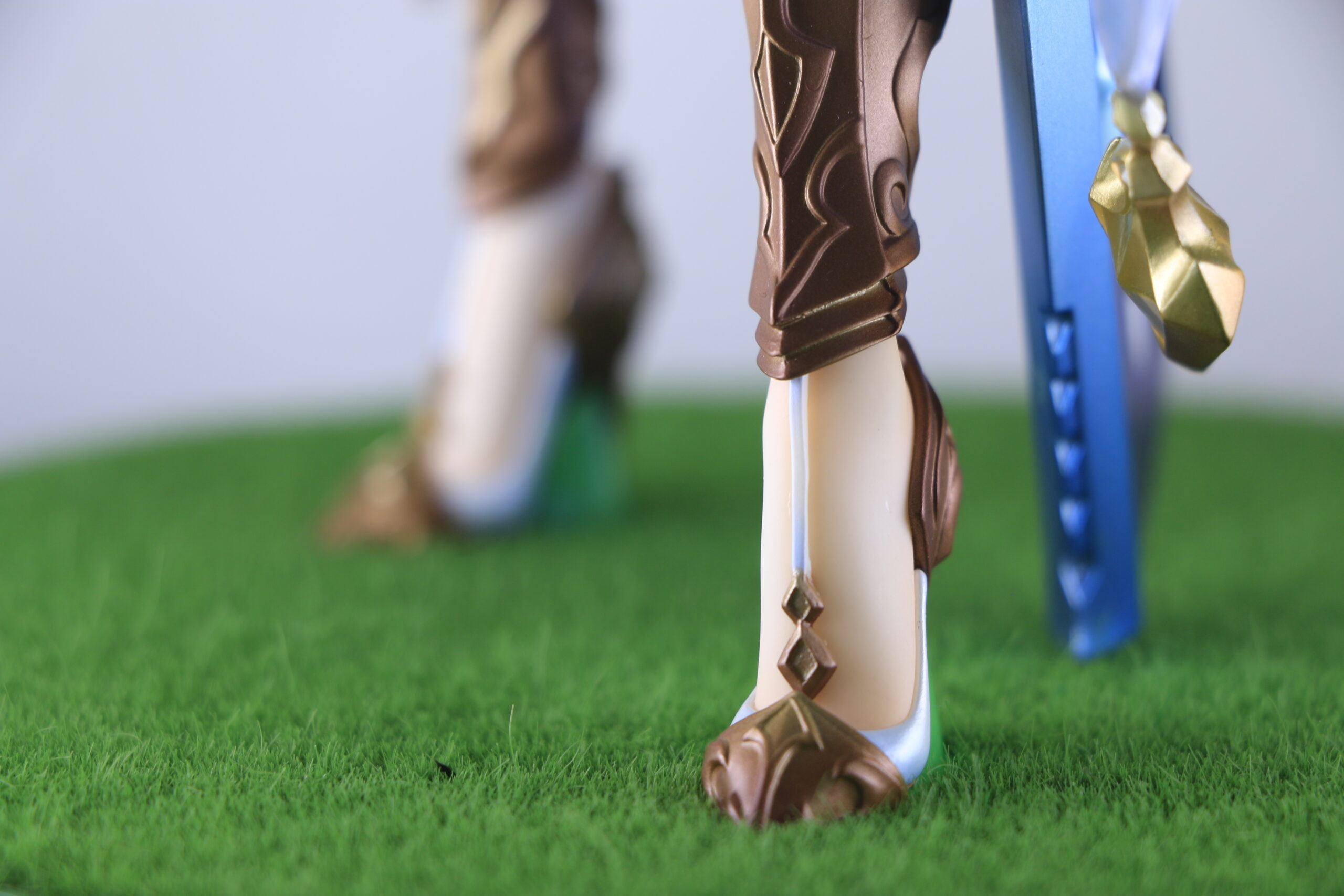 There are two other things we haven't touched upon yet. First, we have her weapon. That thing is huge: spanning from the ground up to almost mid-waist. We have roughly 4 shades of blue, with two shades present on the handle, and the other two on the blade. The shading is very even. In the middle of the blade, we have a cutout running down the middle, with a symmetrical pattern in a lighter shade of blue, both of which are very clean and well defined. Although she's captured in this "battle-ready" pose, I can't help but think about how she would look swinging that around. The final thing is her small little translucent cape. It's attached to her back, and the colour gradients on it make it very unique. Hopefully, you'll see glimpses of that in the previous photos as well.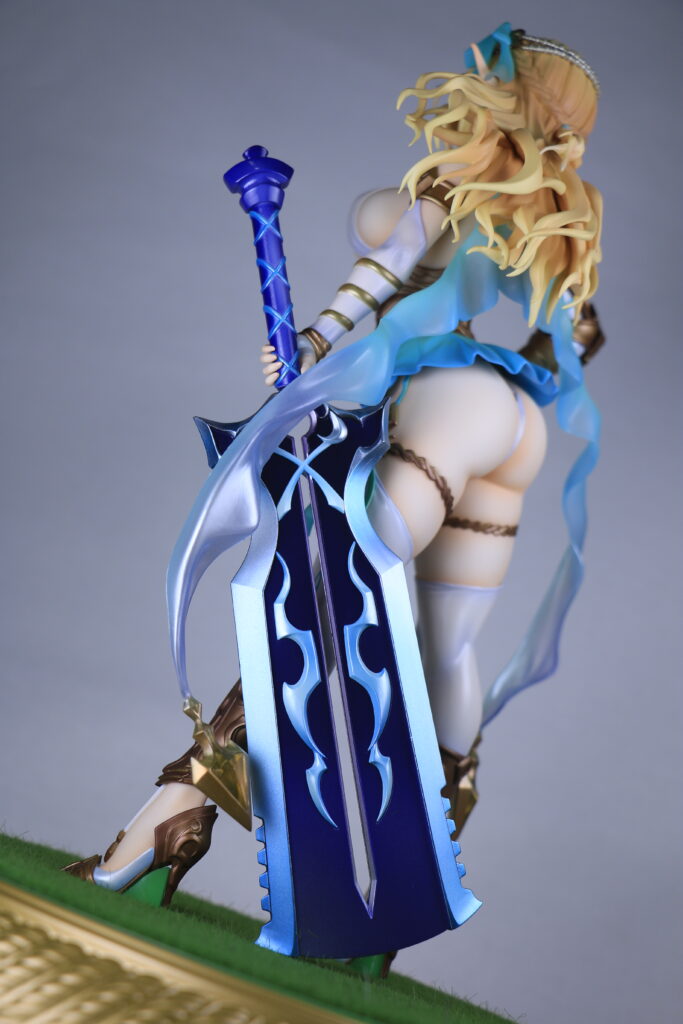 Overall, I really love this figure. The colour palette is simple, with a dark blue, turquoise blue, gold, white, and peach skin, but the spot-on colour gradients and sculpting really made everything stand out and come to life. From the free flowing hair to the clamping of the thighs, you can appreciate the attention to detail from any angle you choose to look at Cecil. Although her bust was quite large, I didn't find them to be extremely detracting from the rest of the figure. If I had to pick a favourite part of this figure, then I would definitely have to say her legs, hands down. The portrayal of her thick thighs, the sculpt work on the leg muscles behind her knees, and her round, plump, and exposed butt were beautifully executed. I do like some nice looking thighs. 😀
VERTEX has proven again that they're able to produce a top tier figure, which makes me very excited about the other original figure Orbit Girls series that they're working on, in particular, Fiona Fullmoon, which I also decided to pre-order. I'll probably write about that next year, when she is scheduled to be released. Meanwhile, the wait continues for the 6th villager, Merum. Hopefully, we'll see a coloured prototype soon. 🙂
Anyways, that's all I have this time around. Racing Queen Coconut from the NEKOPARA series should be arriving today, so I hope to take some photos later this month and display her with Azuki. For now, I'll leave you with one final shot of Cecil together with Lincia.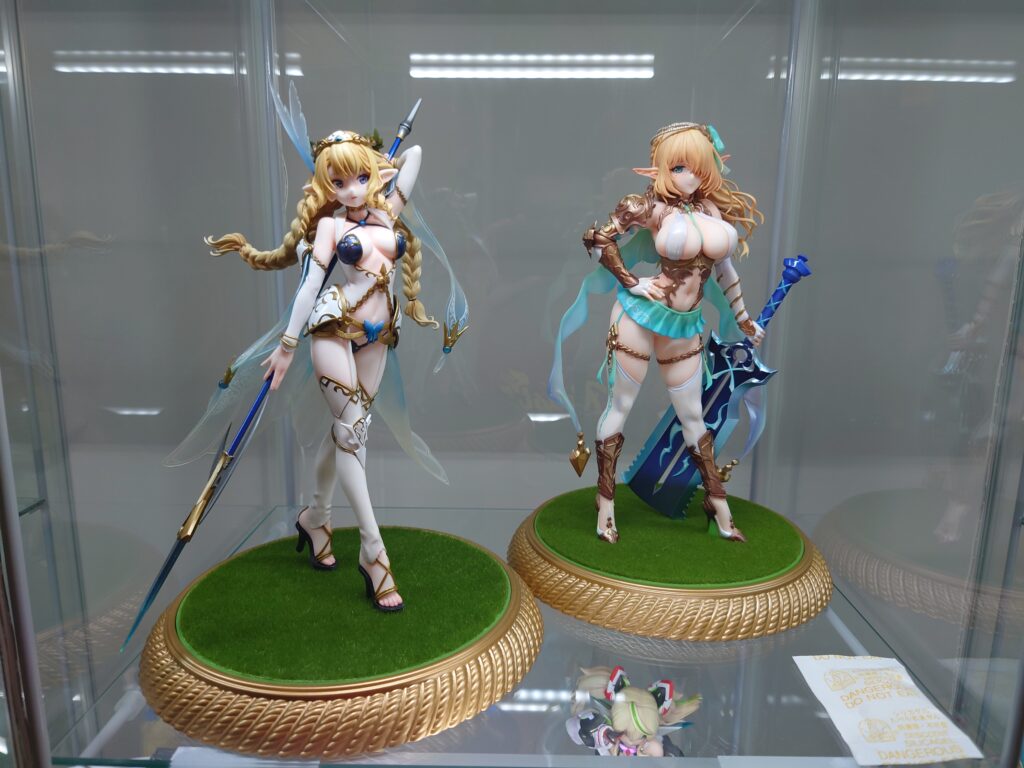 Until next time!
~Lui
Gallery