So after visiting Akihabara, we decided to go check out the human-made island that is Odaiba, located near Tokyo, on September 15. Although our JR pass became valid that day, we could use the JR pass for only some sections of our travel. The subway that goes onto the island is not owned by JR, so our Suica card came in handy here.
Getting on the island required travelling across the Rainbow Bridge, which we managed to take a photo of, shown below.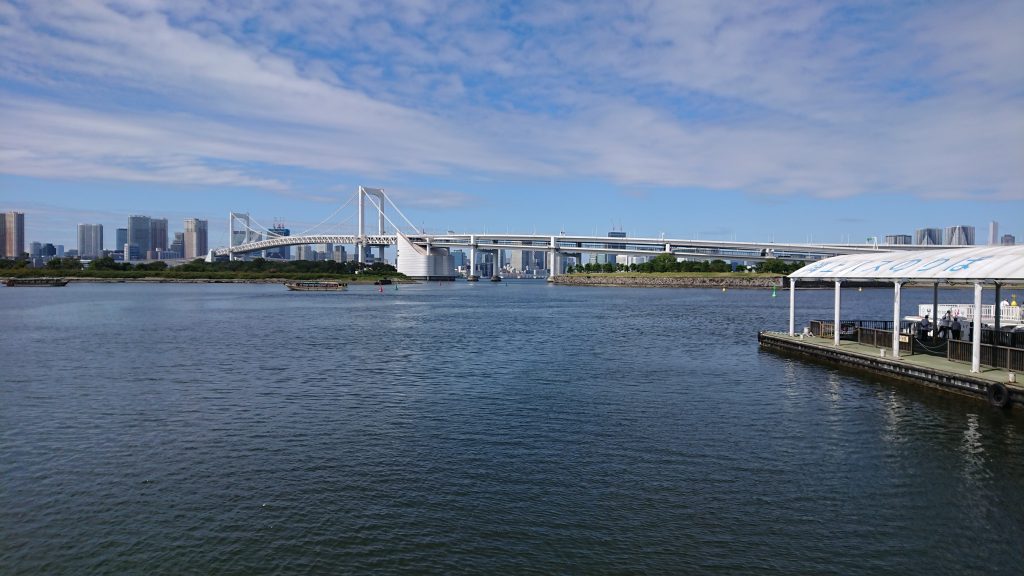 The island itself is walkable, with various malls nearby. We ended up going to two adjacent ones, Aqua City and Decks. In one of them, we found this Live2D virtual assistant, ready to help you with your shopping needs. You can ask her where the washrooms are, where a specific shop is, and more. I tried asking her in Japanese, there was a little bit of a delay, but she responds.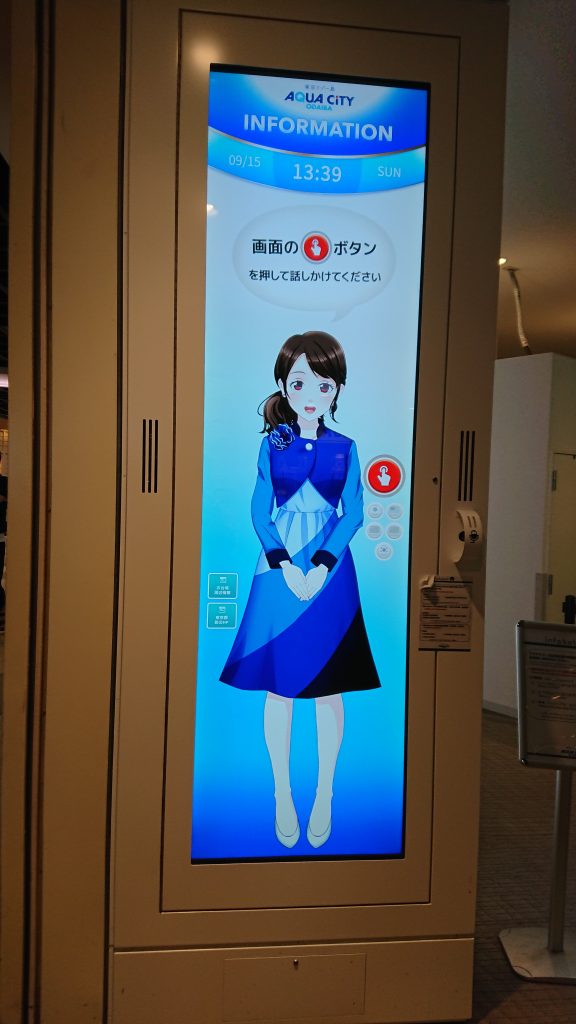 We walked around the shops a bit. We saw a Daiso, Uniqlo, and other familiar brands that we also have in Canada, and some local souvenir shops, too. Prices were probably around the same for clothes, if not a little more expensive. We ended up not buying anything: just window shopping.
Hungry after walking around, we decided to look for food. After looking at the mall directory for our options, we decided to try out Pomme's (ポムの木), an omurice place. My brother ended up getting a plain omurice, and I got the eggplant and mushroom one with a drink set. It was another test of my Japanese reading comprehension and speaking, which went okay as I managed to successfully order without using menu numbers and pointing. I'm really glad I got to practice, as I rarely get to do so back in Canada.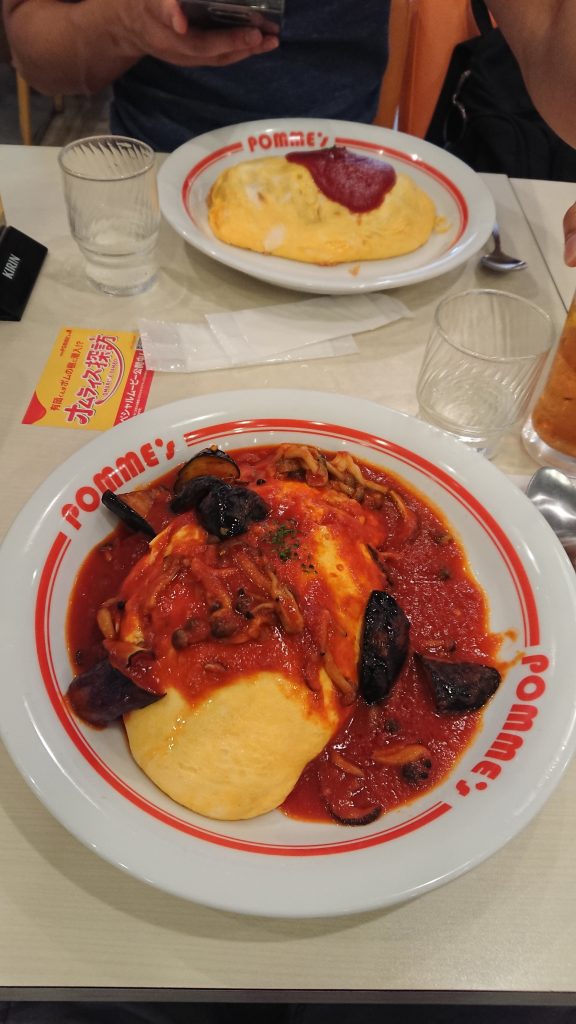 After eating, we walked over to Diver City, where the 1/1 scale Gundam was on display. That was pretty cool. I don't know enough about Gundam to fully appreciate it, but it looks pretty nice, and I have a few friends that love building gunpla, so they appreciate the photo. In addition, it looks like they have light shows and transformations throughout the day, but I didn't stay long enough to see any of them.
Life-size Unicorn Gundam.

Life-size Unicorn Gundam.

A schedule of the various things that happen with the Unicorn gundam throughout the day, including the transformation.
Also, really random, but there was a rave happening nearby, so there were a lot of people nearby: some drunk, some vomiting, but most people having a good time I guess.
We walked around that mall a little bit, and then headed outside to walk towards another mall and to try and find an indoor exhibit called the "Epson teamLab Borderless". During our walk, we stumbled upon this Toyota building, which showcased various Toyota cars, its history, and had various attractions you could try. One of them was a rally car simulator, where you "experience" it in like a "rollercoaster" setting, sort of. We walked into this theatre-like place (dark and whatnot), and sat in a seat, seat belts fastened, and watched a video in first person POV of different drivers in different terrains, and the seat would turn and rumble. The other one was like Gran Turismo: you got to race 3 (?) laps against CPUs in a Toyota car. There was also a test drive facility outside, where you could try out their cars. My brother considered it, but we decided against it as we don't have an international driver's license.
Toyota test drive facility, we didn't go try it thought cause I don't think our driver's license works here.

Countdown to the 2020 Summer Olympics in Tokyo.
After exploring the Toyota place, we walked around Palette Town, another shopping mall. Lots of brand name shops, as well as some shops we haven't seen before, selling some pretty nifty things.
When we left the mall, it was starting to get a little dark, so we went to find teamLab Borderless, a pretty cool museum. Admission was 3,200 JPY. The museum itself is self-guided, with various different hallways, rooms, and walls, all in the dark. As it is sponsored by Epson, they use plenty (if not hundreds) of projectors to illuminate the place with various lights and patterns. If you stay in the exact same room, as time passes, the patterns and shapes begin to change, showing something completely different. Some rooms even have mirrored floors and LEDs only, making for very intricate photos. For floors with mirrors, they provide cloaks to cover yourself if you're wearing something like a skirt to avoid exposing yourself. Some photos of the exhibit below.
A room that currently looks like a waterfall.

Sunflowers are being projected on the floor.

LEDs hanging from the ceiling.

Red and pink 🙂
All in all, Odaiba was pretty cool. The only thing I didn't get to see up close in person was Tokyo Big Sight, where large conventions are typically held, including Comiket. In the future, when I get another opportunity, I would like to come back to Odaiba again.
Anyways, that's all I have for now.
Until next time!
~Lui