I'm back! In my last few blog posts, I've been busy "sorting things out", and now the dust has more or less settled. tl;dr I bought my very first home and moved again! 😀
The Search
About half a year ago, I had a relationship abruptly end. As part of my personal planning, I had been saving a considerable amount of my paycheque towards a down payment for a home whose location was yet to be determined. Since we lived around a 45 minute to 1 hour drive from each other, we considered a suburb that was roughly at the midpoint, which I thought was a reasonable compromise. That was my short term goal: to save enough to get a place in that suburb within the next few years.
Since that relationship fell apart, I was no longer bound by that compromise. Given that I had already saved quite a bit, I (instead) started looking for a place to call home nearby in mid- to late-March. Undeniably, home prices where I live are quite expensive, but thankfully aren't as bad in comparison to my previous target area. I went to at least 10 to 20 home showings, for which I did place offers on two of them before managing to get an accepted offer on the third and final place. Although the original asking price was tens of thousands of dollars above the assessment value, my accepted offer price was pretty close to the previous year's assessment value, so I call that a "win". I am fortunate enough to work in a field that has decent compensation, so by the time I had to pay, I had more than enough for the 20% down payment. My family also helped me out a bit in this regard, which further reduced the principal amount I had to borrow, and therefore reduced the amount of interest I now owe to the bank for my mortgage.
Prepping for the move
The time between my accepted offer and the possession date was quite a number of months, so I had plenty of time to prepare. Since I lived with my brother, even if I didn't pack all the little bits and pieces, I would still be able to go back and grab my leftover things.
Realistically, I only really started to pack my things two weeks prior to my move in date, which was only a few days after I got possession. I had around 18 boxes of things, my desks, 4 DETOLF display cases, my mattress and bed frame at my brother's place. I had some new IKEA furniture at my parents' place as well that I bought prior to the move for my new home. On moving day, we rented a medium sized U-Haul truck and also picked up a couch I had bought the month. I really couldn't have done it without my parents, brother and his girlfriend's help. Between taking possession and moving in, they also helped clean everything: from the floors and carpet to the light fixtures and exhaust vents. Magic erasers are my new favourite thing: they can get rid of those scuff marks on the walls!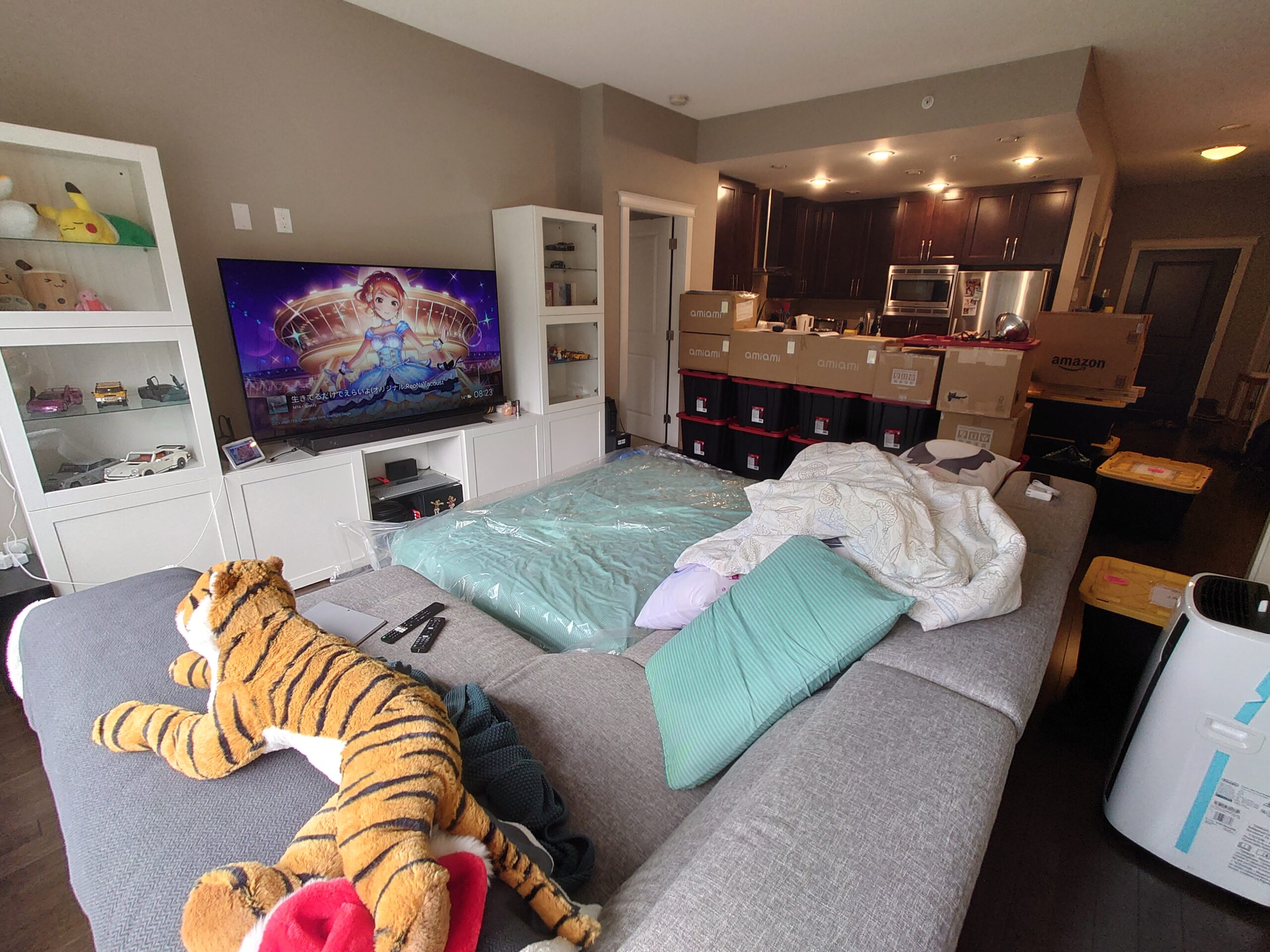 Home Sweet Home
The place I bought is a two bedroom, two bathroom condominium, with one parking stall and storage locker. The windows face north-west, so the afternoon is a tad hotter, but fortunately (or unfortunately, depending on the amount of privacy you like), there is an adjacent building that takes the brunt of the sunlight, so it's not too bad. This building isn't new: it's been here for a number of years, but from what I can tell from looking at the exterior and the strata documents, it seems to be decently maintained. It's a bit smaller than my brother's place, but at almost 90 m2 in area, it's a nice size for my own personal space to display my figure collection and for a home office. I've been settled in for a little under a month, so I'm pretty close to being at the steady state. 😀
Upon entering my unit, we have the kitchen to the right. The cabinets and whatnot are all glossy white, and despite the age, they were really well maintained by the previous owners. The fridge is a built-in one, so it blends in with the rest of the cabinetry. On the counter, I have a hot water dispenser, a toaster oven, and an air fryer.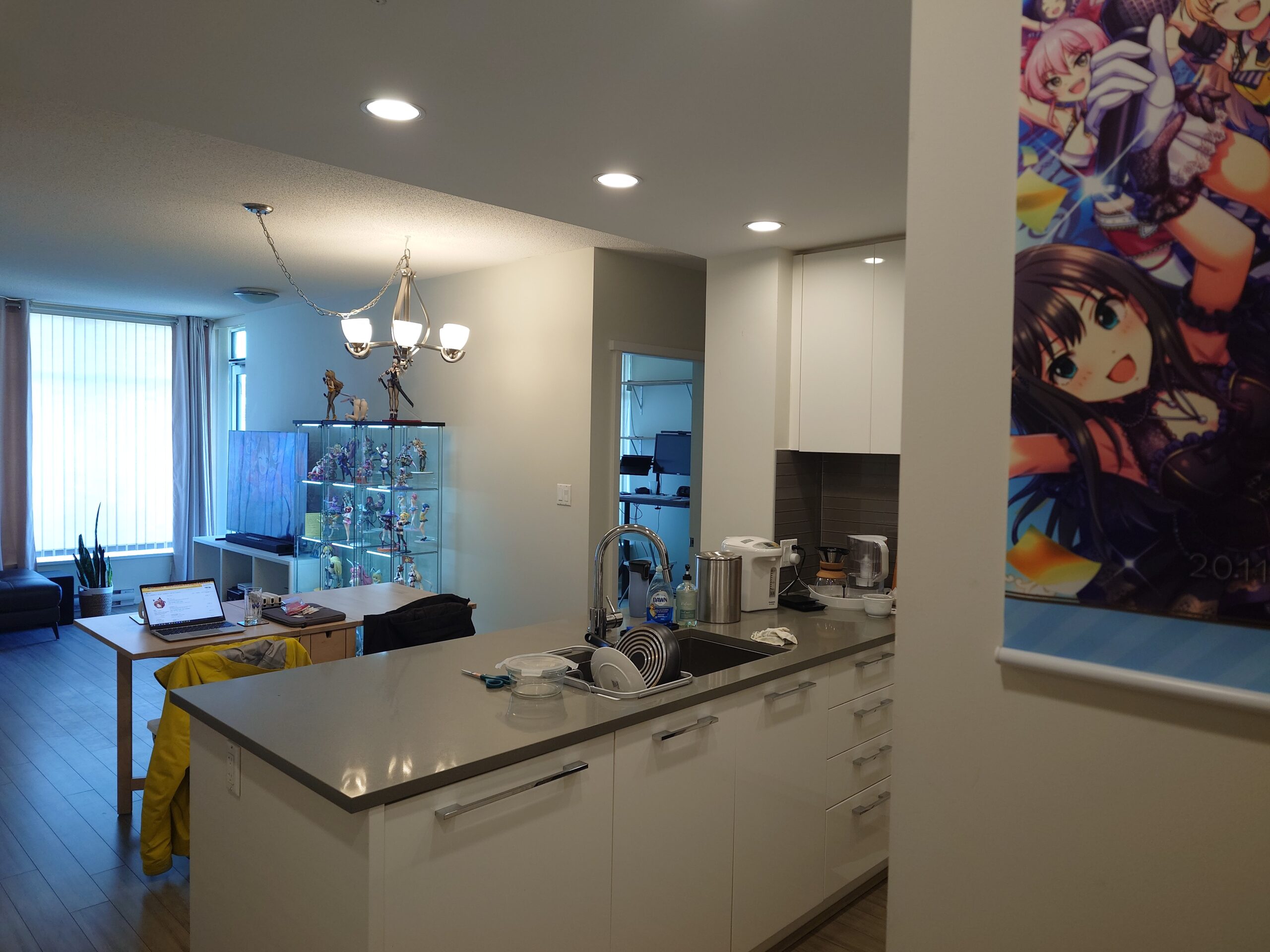 Now that I'm living alone, I've been learning to cook more at home. The air fryer has been quite helpful in this regard: I can make potato and carrot cubes and cook them in there while I cook other things like veggies and meat on the stove top. I've also done the vice versa, where I cooked chicken or meat in the air fryer while cooking noodles in a pot on the stove and stir-frying veggies in the wok. Parallelism! With the meat/chicken marinading prep-work done beforehand, I've been able to cook myself a meal in about 20-30 minutes.
With the open concept, I can look into the living/lounge area. Close to the kitchen is my collapsible NORDEN dining table from IKEA. Both sides of the table fold down, so when I don't have guests over, I can put one side down to make it feel more open. It also has drawers on each side, so I put the placemats and napkins inside. My parents were saying if I put the cutlery and stuff inside the drawers, it would give off the cha chaang teng (茶餐廳) vibes. LOL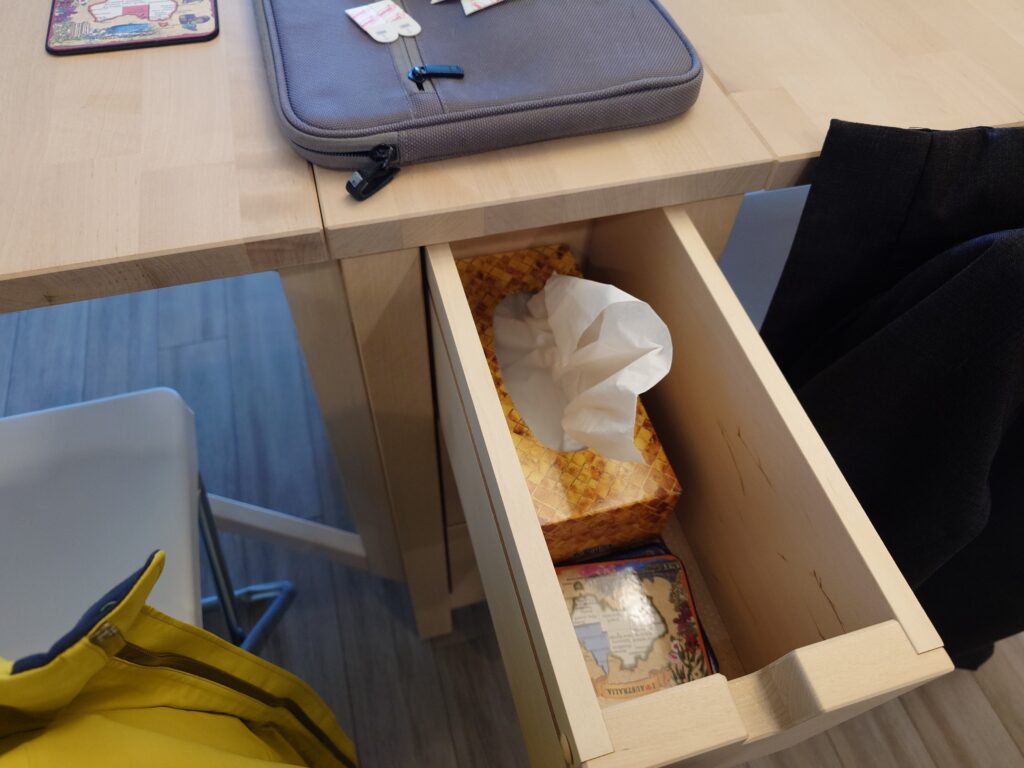 On the other side of the dining table, I have a couch which is the same model as the one at my brother's place, except with a different, leather upholstery. Across from that, I have my TV and display cases set up. The TV is a newer model of my brother's TV, and along with it, I bought a soundbar and subwoofer. I use it to watch anime and YouTube, and occasionally play the Wii, so it's great! I still can't believe it still hooks up and works fine (albeit at 480i quality haha). To add a bit of greenery, I was also gifted a nice snake plant. Hurray, low maintenance! 🙂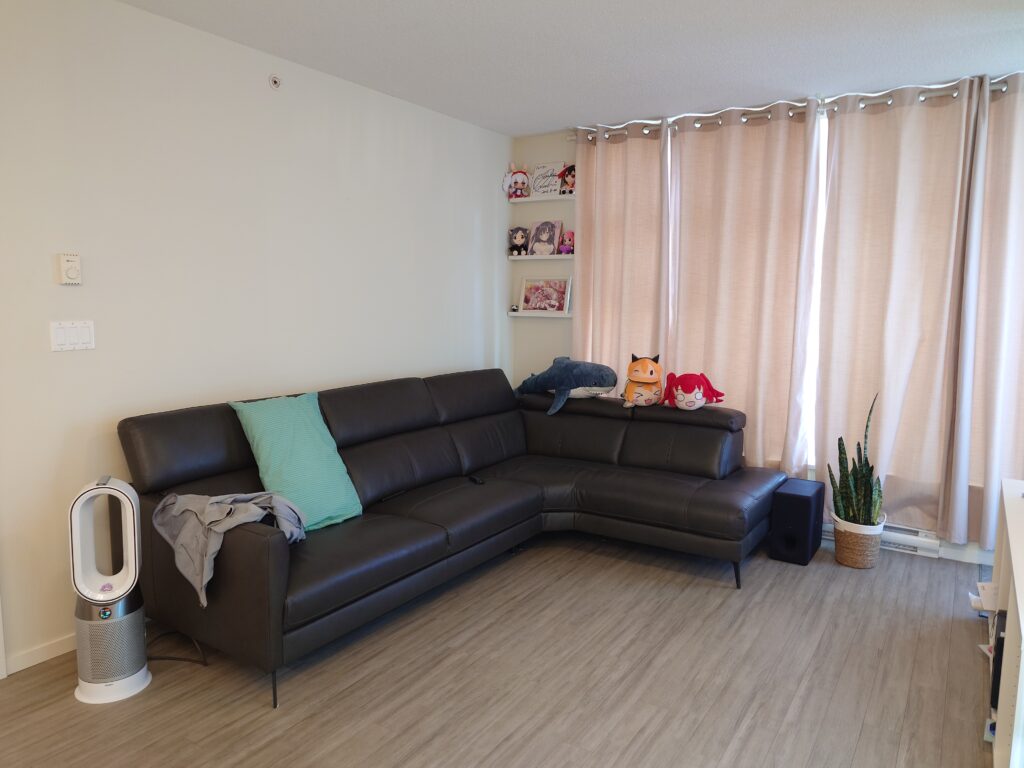 On the far wall, the previous owners left a couple of IKEA wall-mounted shelves. I took the liberty of putting my plushies and shikishis on the top two shelves. The top-most one has an autograph from Ohashi Ayaka sandwiched between a Reimu fumo and Laffey plush. The next one down has an illustration from artist Korie Riko-sensei (which came with one of her dakimakura covers), along with her custom plushie Korigurumi on the left, while a Nanako Nino plushie sits on the right. Finally, the bottom-most shelf holds the Munakata Atsumi pub mirror frame, with a small Haro I bought at the Gundam Factory in Yokohama when I went to Japan this past May. I really like Atsumi's card illustration: she's super cute 🙂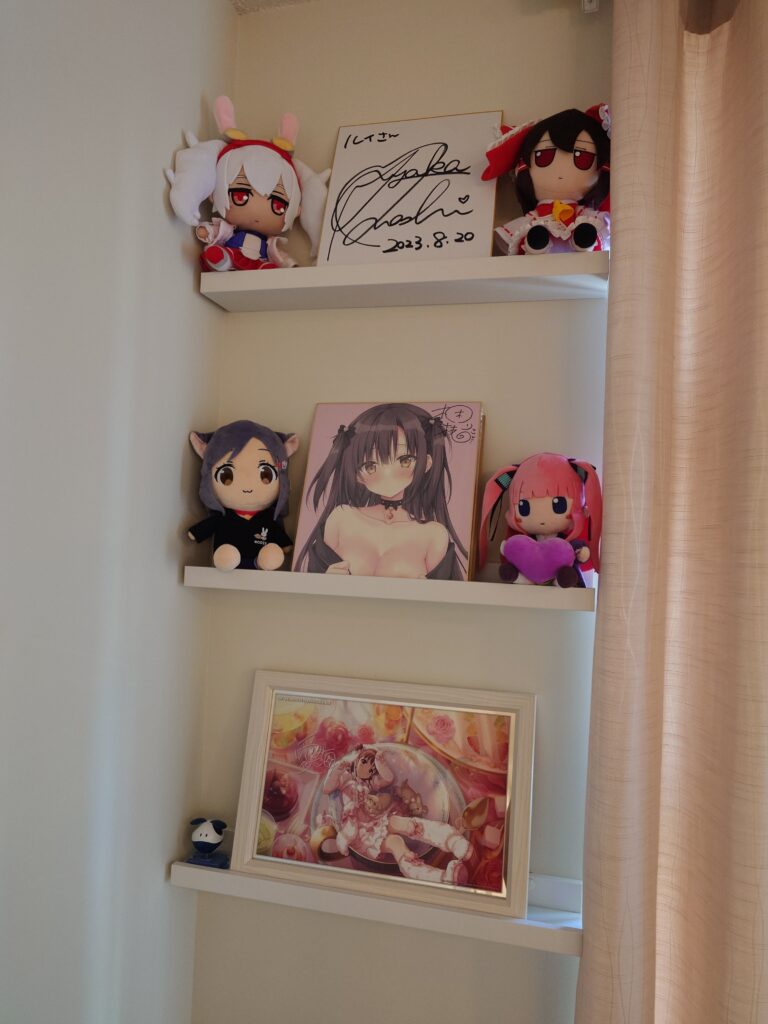 Beside the TV are my display cases. This area is still a work-in-progress, since I am also planning to get another vertical BESTA shelf from IKEA to complete the TV setup; however, I'm still waiting for it to come back in stock! I'm also waiting for the doors and shelves/drawers for the BESTA stand itself to restock, cause it's just a mess inside. To the left of the TV stand, there's also a door on the left that leads to small little patio.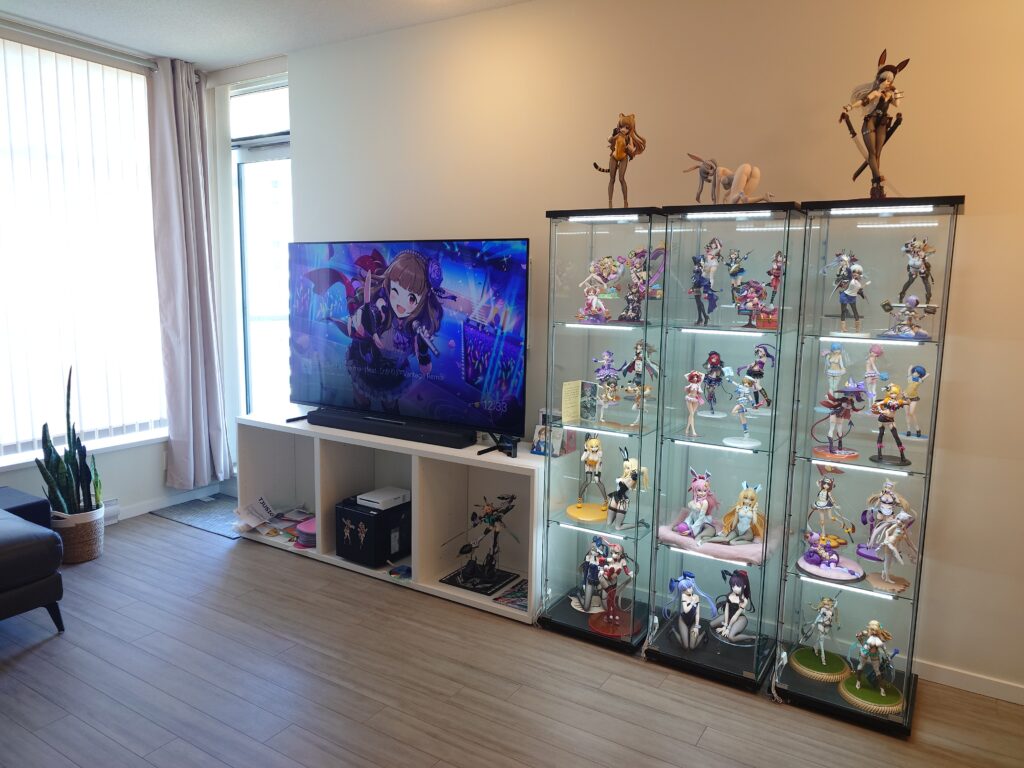 Pivoting to the right side, we have the guest bathroom and first bedroom. There is a nice wall with a light, so I've deemed that a display wall. The previous owners also did something similar with another type of artwork, and I decided to follow suite, hanging Mitsuba Choco-sensei's large B1-sized strawberry bunny girl tapestry.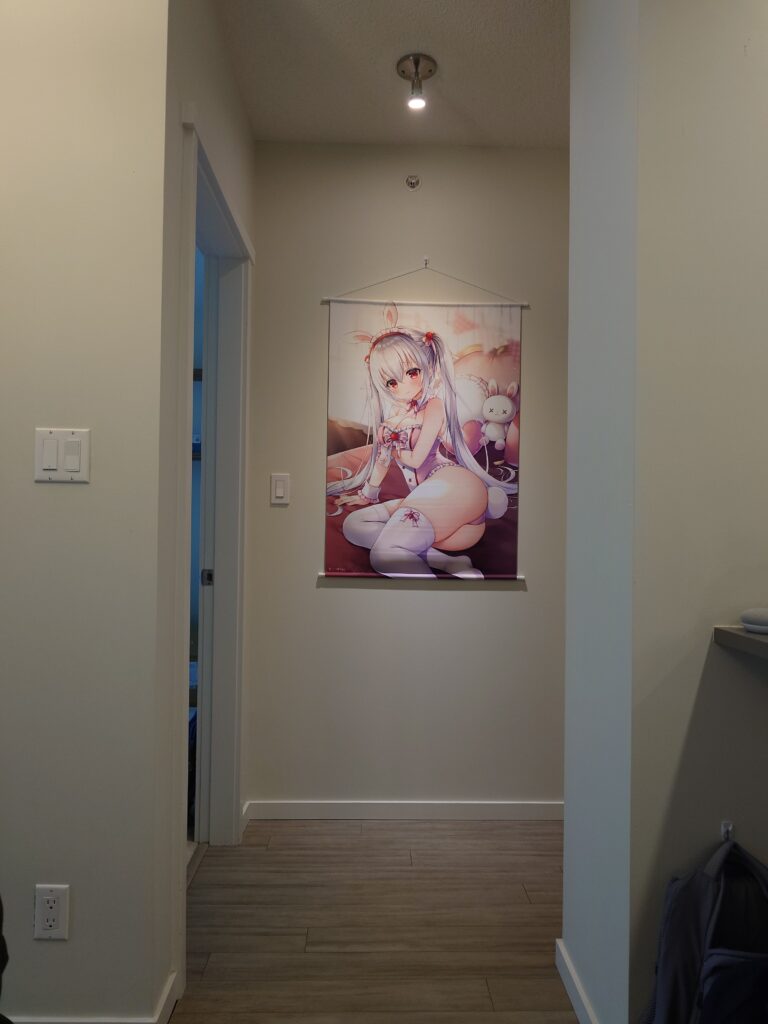 To the left of the wall is a bedroom, which has become my home office. I currently have two desks in here: one is my standing desk, which I use for work, and the other is my parents' old desk that I was using at my brother's place, which serves as my personal desk. Sometimes, my brother comes over to work as well, so he takes this desk and plugs in his small form factor desktop PC to do work. The room also has two wooden shelves that the previous owners left up. I'm excited to use them to display figures when I get the blinds installed. Aside from that, I don't have my servers at this place yet: I don't have a UPS, nor do I have a switch in this room (it's actually on the way). Once I do, I'll set up another server box for personal projects and off-site backups!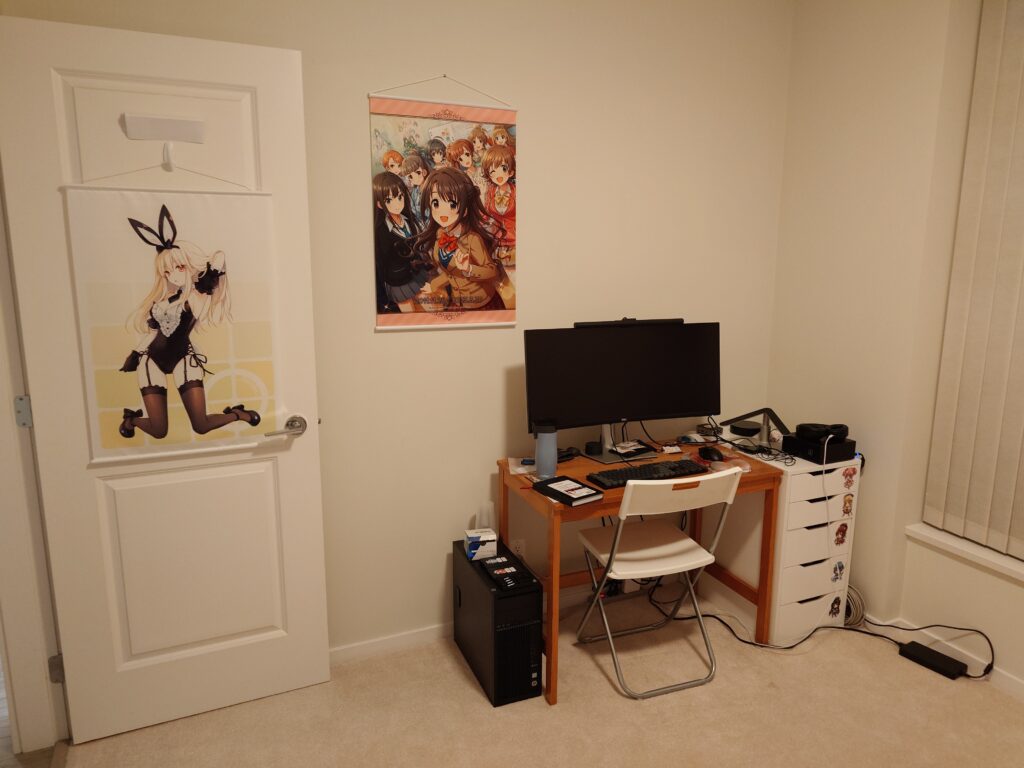 Coming back out and going to the right side of the display wall, we have the guest bathroom. It's a full bathroom, featuring a sink with plenty of counter space, a toilet, and a standing shower. Right now, I don't use it on the daily, but it'll be perfect for when I have guests. I've also hung up the Ina banner I got from Animethon a few months back.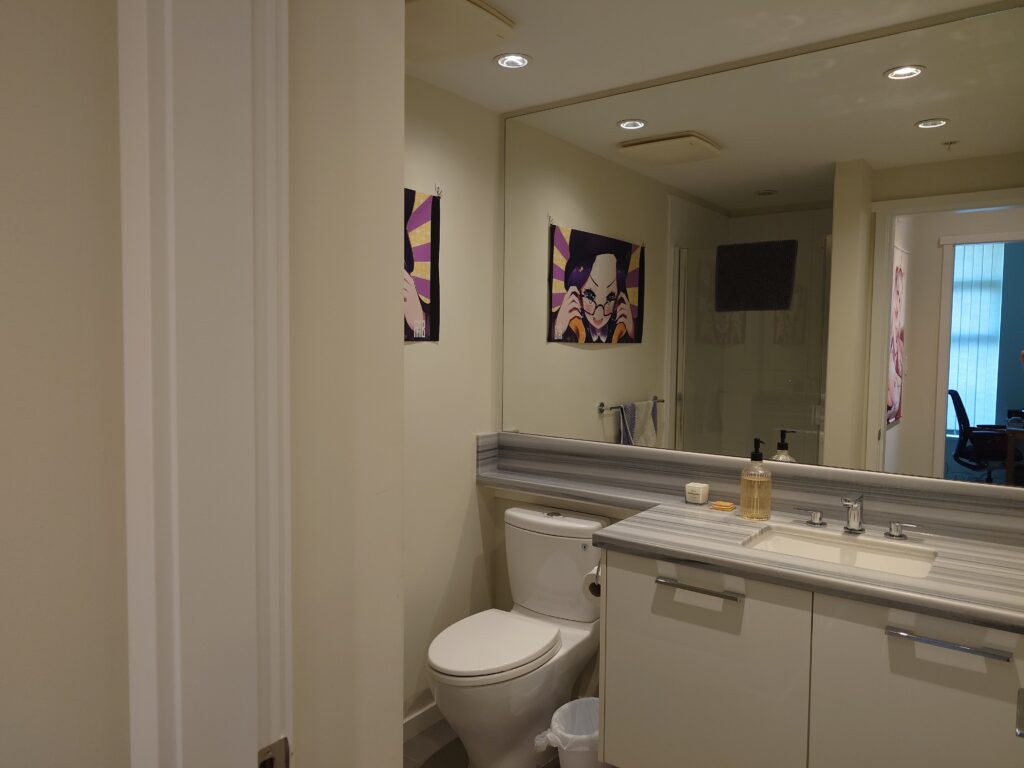 Going back to the entryway, there are two closets. The first closet is home to the laundry washer and dryer machines. The second one is the utility closet, where I store my shoes, vacuum cleaner, and miscellaneous items. It's also where my Internet comes into the unit. Beside this area is a small little nook area that has some shelves. There's some storage boxes on the floor and some figure boxes on the shelves at the moment, but I eventually want to move two of my display cases here; however, that is dependent on some blind replacements I'm planning to do, since the sun hits the left side of this area from the patio door. I want to get horizontal translucent privacy blinds as well as blackout blinds on all the windows. This will be great for letting light in while also not getting sunlight directly on the figure collection, which will hopefully let me keep them in good condition for longer.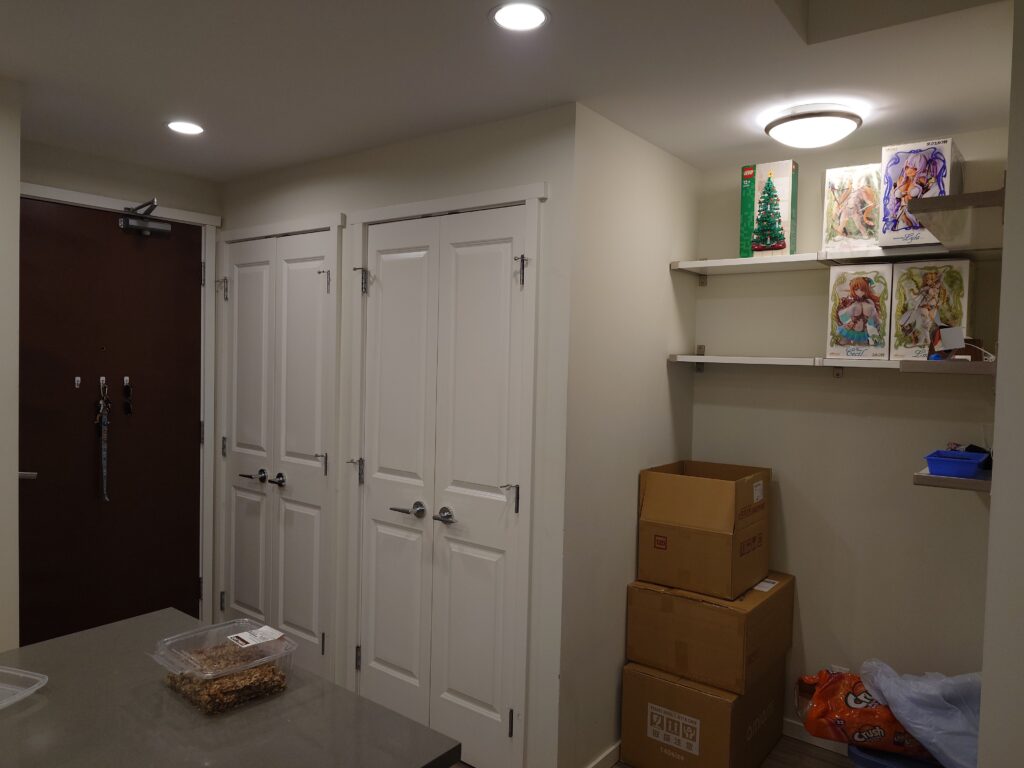 Going to my bedroom, it only has my bed right now. Because of that, it really feels way more spacious than when I was living at my brother's place. There are a few things I plan to do in this room. One thing that needs to be sorted out are the lights. Strangely enough, there are no lights above the bed, so I've plugged in the clamp lights I used for my figure photos to light the room, which are controllable by the wall switch by the bed and the door. I also might put my other personal desk back in this room at some point, but I haven't decided when. I currently have the final display case sitting here so as to not take up more space in my living room. I don't have anything (including the shelves) inside yet because the sun does shine a bit brighter in this room than it actually does in the living room.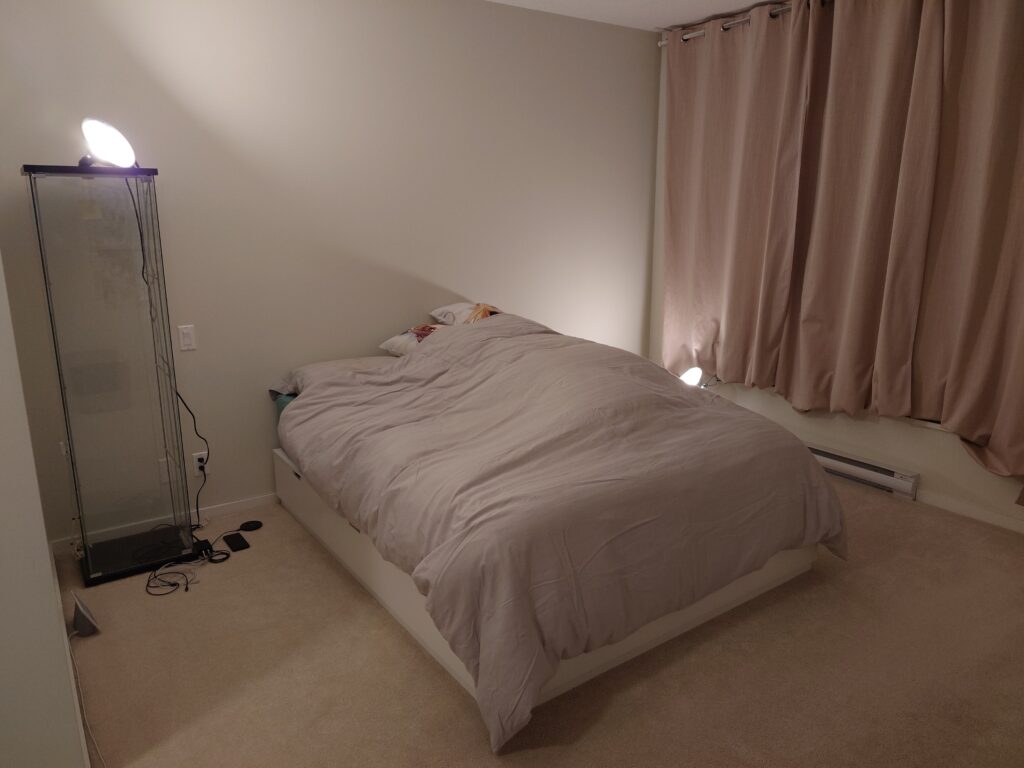 Coming and closing the door, I have started to rebuild my art wall. I have finally put up all the prints I bought during this year's Animethon and Anime Revolution. I still have some older prints I want to put up, but I need more blue tack, so I'll have to come back to that at another time.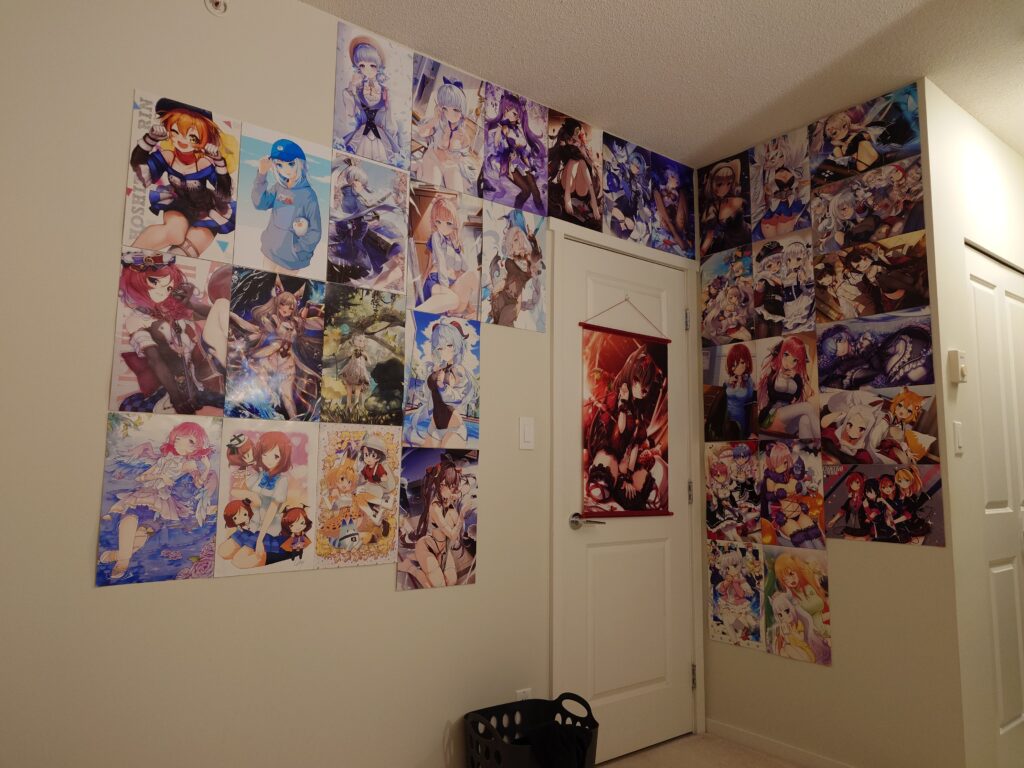 Finally, towards the left side of the master bedroom are closets and an en suite bathroom. The walk in closet had a two-fold door, which I've dismantled because I felt it was making the space feel more crammed than I wanted. Inside, I have most of my T-shirts, pants, and jackets that I wear on the daily. The rest of the space is for figure box storage. I also decided to hang my Rem dakimakura cover: fitting to hang linens in the closet ;). The bathroom is long and narrow, with double sinks and a bathtub. It's got plenty of counter space and drawers for the daily necessities. To spice up this washroom, I put the Aqua vinyl banner up.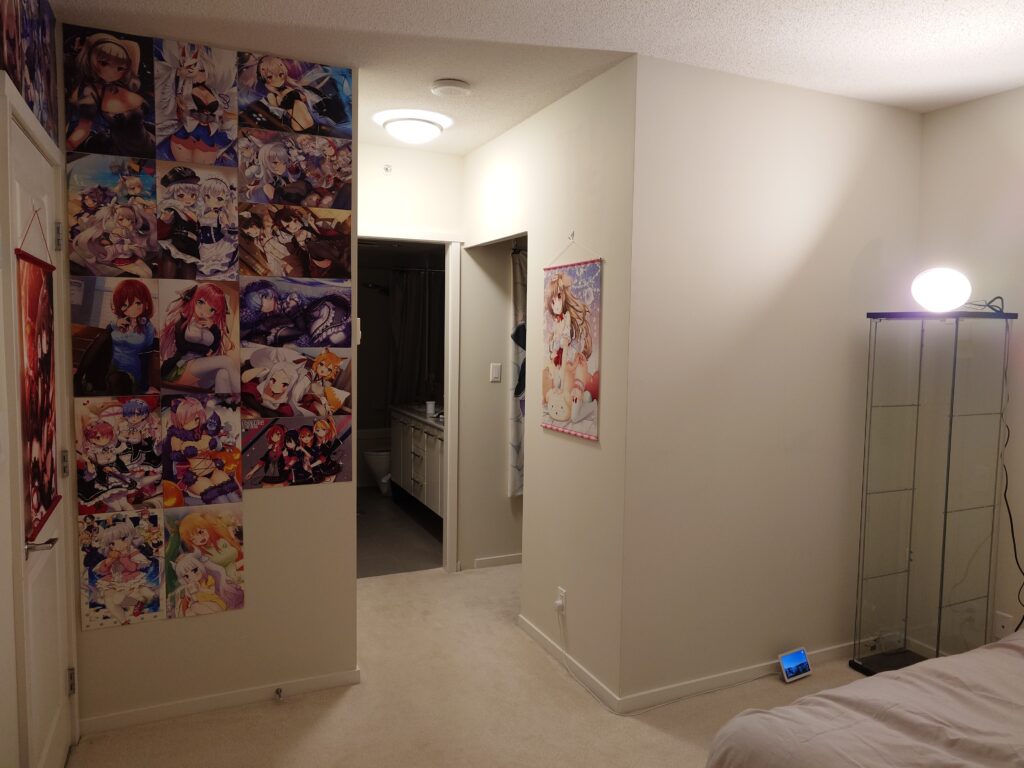 Anyways, that's really all I wanted to write about in this post! Now that I've more or less settled into my own home, I have many things I want to do. The first thing that I've already done is replaced the majority of the light switches with smart switches. The only ones I've left as-is are the ones in the bathrooms. The next thing I plan to look into are the blinds. I still need to budget to get those replaced with some better ones, so this might take some more time.
For now, I'll leave you with Hana-chan, who's excited about a new home!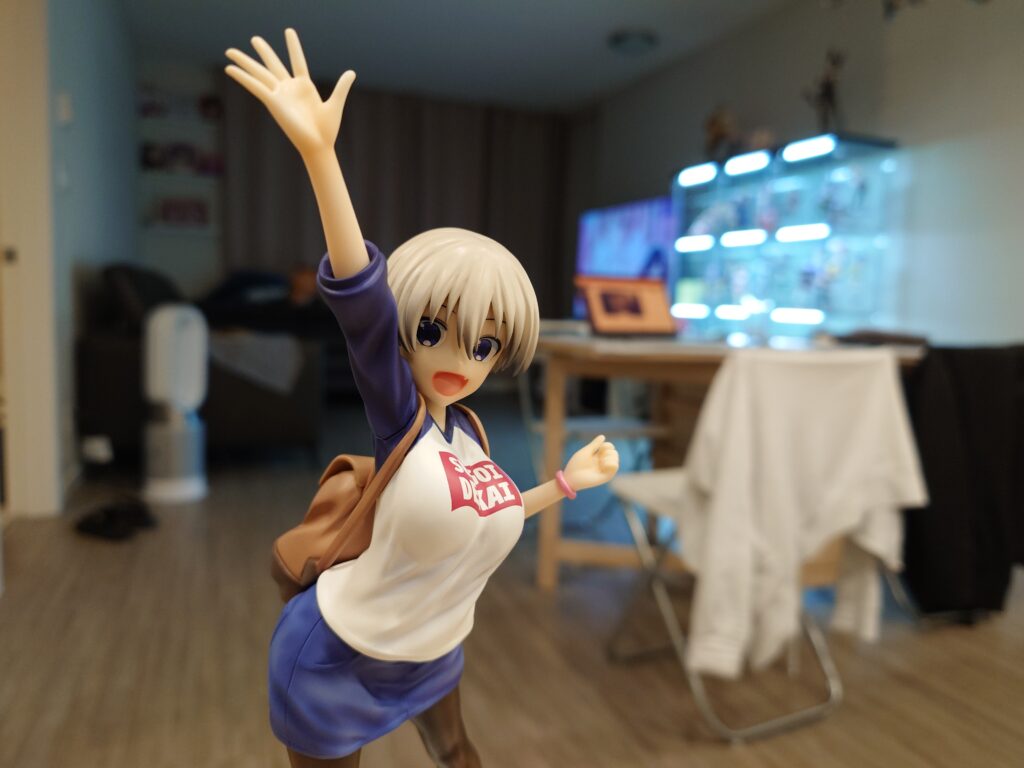 Until next time!
~Lui