I have a thing for kemonomimi, or animal ears. There's something about them that I find interesting. The NEKOPARA series is no different. The series' illustrator, Sayori-sensei, announced a new figure company, NEKOYOME, which would be working on a 1/7 scale figure of Azuki that she designed herself. Azuki is my favourite character from NEKOPARA, so it was natural that I ended up pre-ordering her.
This past November, her figure was released, and I received her shortly after. With moving taking a substantial amount of time these past few months, I was unable to open her up and put her in a display case. Now that the "dust has settled", I finally had the chance to open her up for display.
Azuki's box was among one of the larger ones for a 1/7 scale that I have so far. This was mostly due to her long flag pole that she is holding. I think it would have been nice if the cat paw flag was separated from the pole itself. That way, it would allow the box to be a bit smaller for transport, which would have been great during these times when shipping is so damn expensive. 😭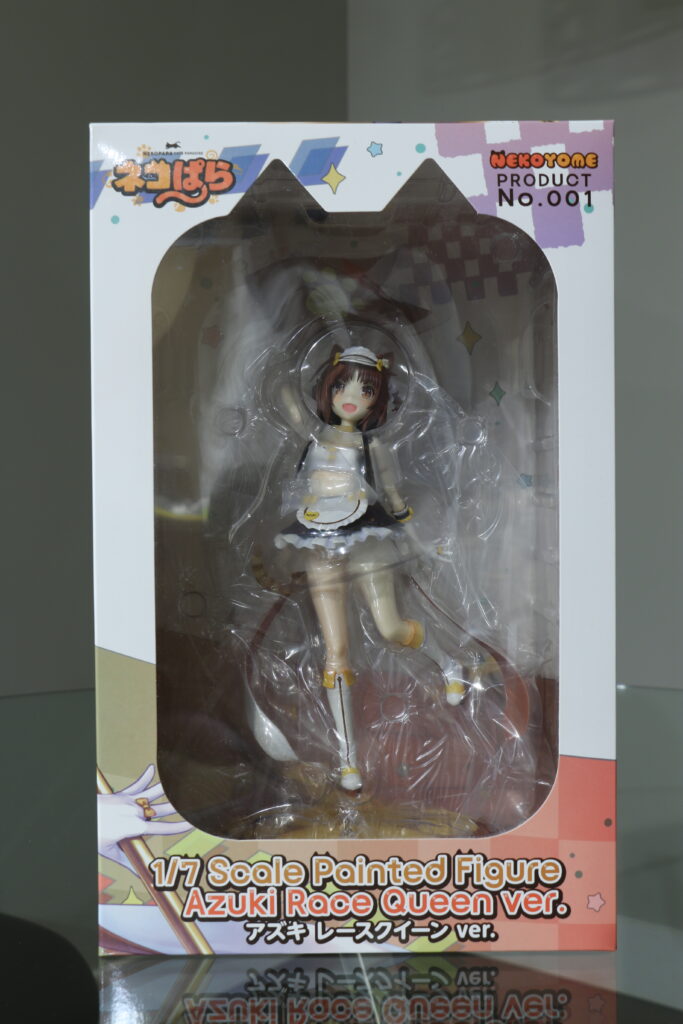 Putting that aside, because I still paid to get it shipped over anyways 😂, this rendition of Azuki is pretty good. You won't any trace of Azuki's tsundere-ness, as she smiles elegantly towards the distance, while gripping the cat paw flag poll with her right hand behind her back and supported on the bottom with her left hand. Her usual Le Soleil maid outfit is stripped down, where we'll see her exposed mid-rift from the front and back. She has her short but familiar maid skirt and lower apron, and also has a black vest, making it easier for her to cheer you on during the day, wherever you choose to place her.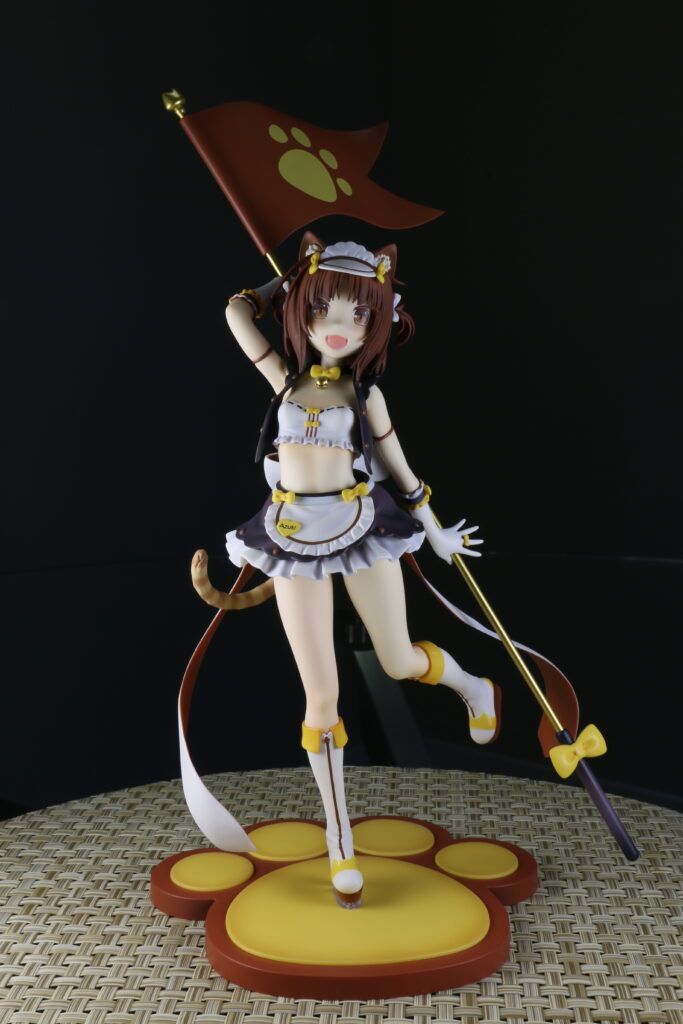 Anyways, there's a lot I like about this figure, so I'll start from the top. First, we'll get Azuki's cat paw flag, which detaches from the pole so that you can feed it through Azuki's right hand. At the top of the flag pole, the cat motif continues: instead of the normal spherical top, Sayori-sensei shaped it to look like a cat's head. I thought that was a nice little touch.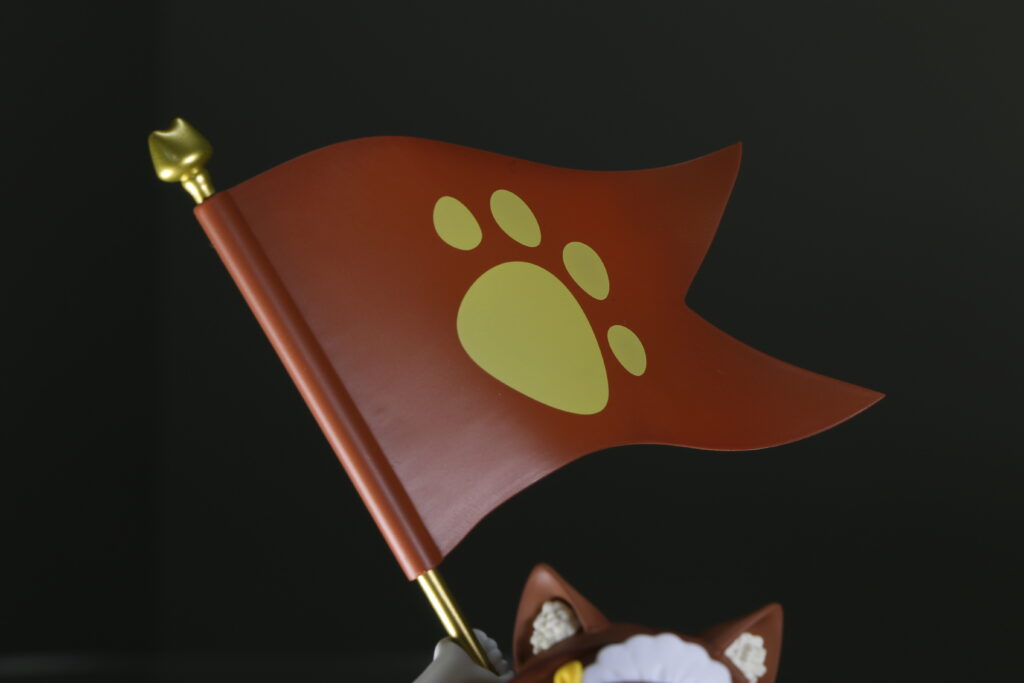 Moving down to Azuki's head, we'll see her munchkin cat ears. Her usual hairpiece has been converted into a small little hat, which continues with the maid motif. To our left, we'll also see the long, white glove she's wearing on her right hand. She also has her usual short twintails on the side of her head, held in place by her white bows.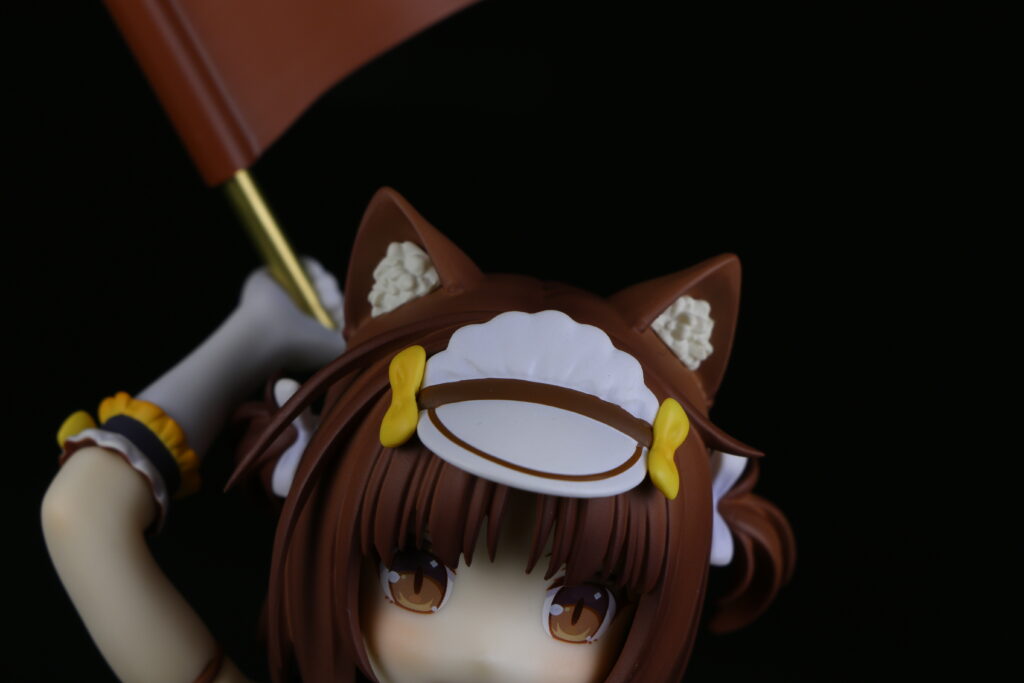 As we move down to her face, Azuki foregoes her usual tsundere expression that we often see when Coconut is around. Instead, she boasts a befitting happy expression to cheer you on for the day. I do like the extra touch where we can see her fang teeth. Her hair bangs are nicely sculpted and are quite detailed in this regard.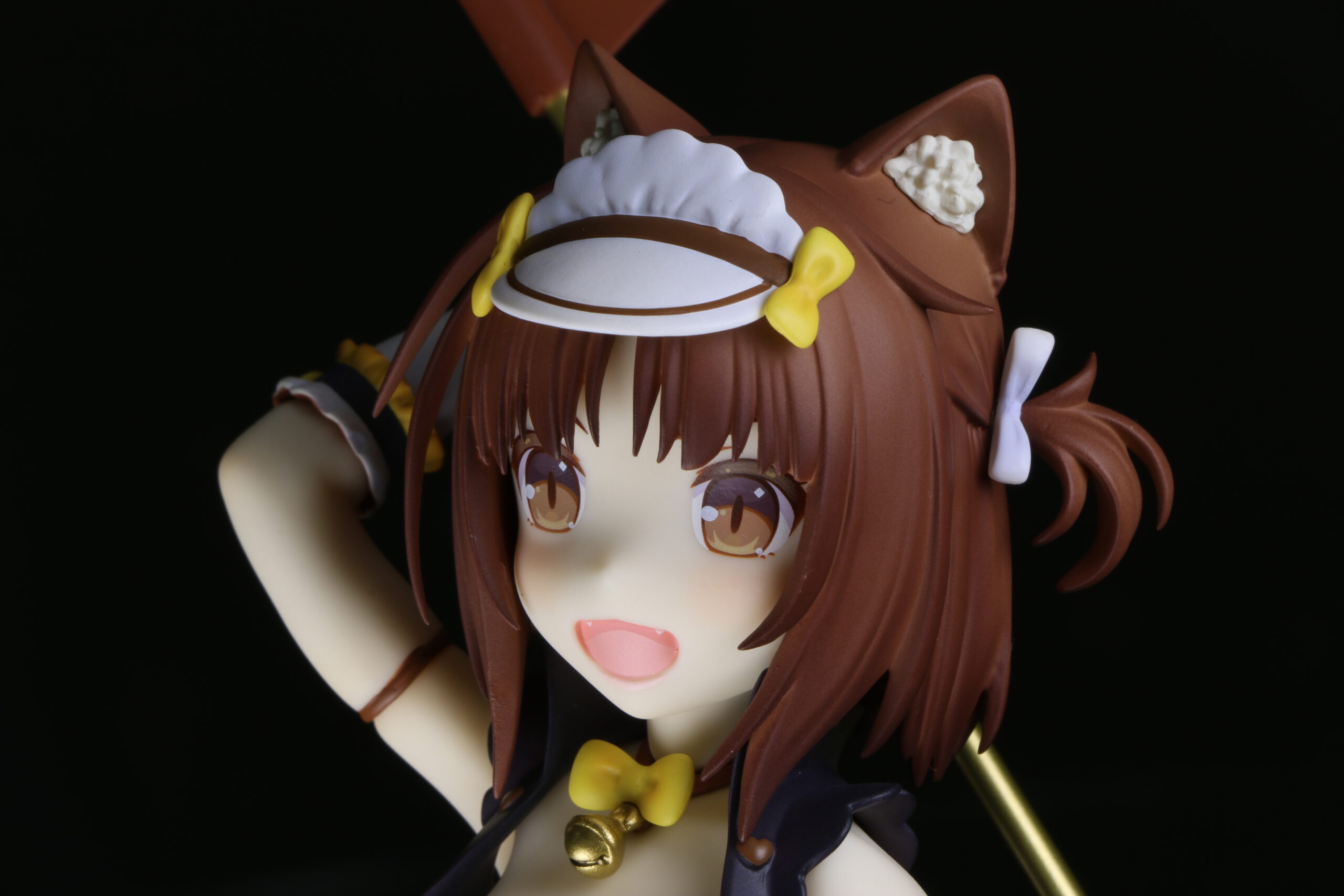 Moving down, we'll see Azuki's modest bosom, which are hugged her chest piece (yes, I clearly don't know my different parts of clothing) resembling her usual maid outfit. Her skirt is also pretty good, in particular the half white apron. There is a small little gap between her black skirt and the half apron, so it's not just attached directly onto it. I think it gives it a bit of of realism. Underneath her extremely short skirt, we'll see her usual white panties with yellow polka-dots.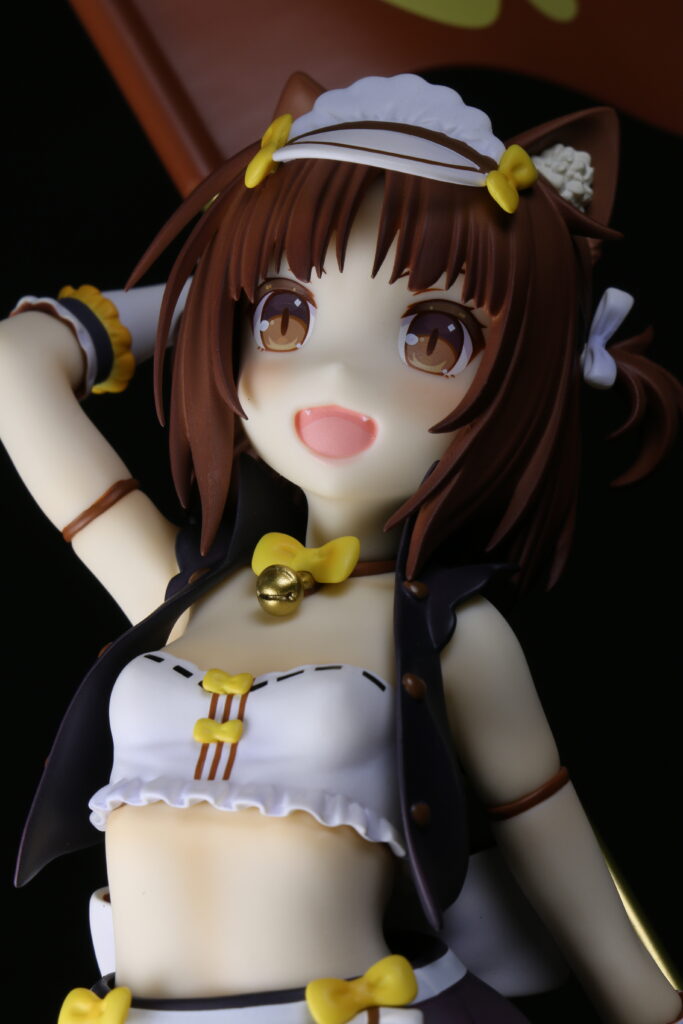 I also appreciate the small little details on Azuki's back side. I like how Azuki's hair was done, especially the hairlines. Hopefully the different lighting angles help capture this, cause I think it helps add a bit more definition to it. Her gloves also have some nice touches, such as her middle finger bow, and her glove/wrist maid cuff right below her elbows. If you take a closer look on her left glove, you can also see some wrinkles near her wrist, and I think that adds some realism. As well, the bow on her skimpy skirt is pretty good, too. I'll let the photos do the talking.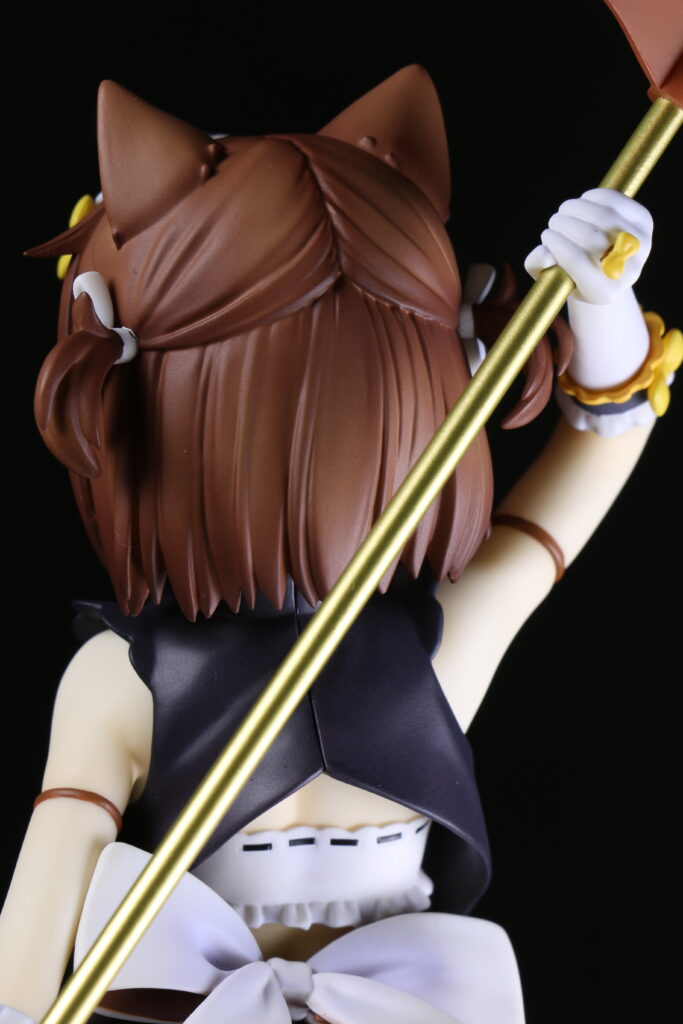 Finally, as we reach her legs, we'll notice her white, knee-high boots, coloured in Azuki-like colours: we have a brown zipper going all the way down her boot, and brown bottoms. The yellow band around her foot also has cat ears, so that was a nice touch. Azuki attaches to her cat paw base with her brown and yellow colours on her right leg.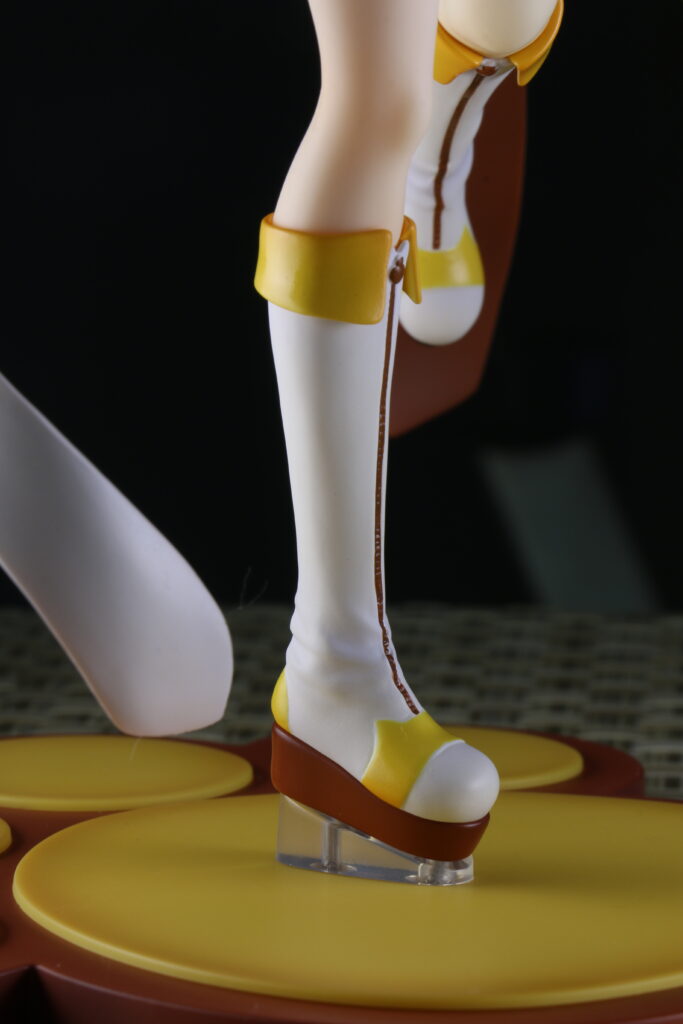 Overall, I like this Azuki figure. It's simple, and the sculpting is clean. The ability to remove her skirt and jacket are a nice touch, but I'll probably keep them on since I like her skimpy maid outfit look more. Race Queen Coconut also went out on pre-order recently, for which I have already put in an order. Hopefully her box won't be as big as Azuki's, given that she doesn't have a long flag pole to hold on to.
Anyways, that's all I have this time around. I have some other figures that came in recently, so I might write about them soon.
Until next time!
~Lui
Gallery