I recently came back from a trip to Japan with my brother. It's been a hot minute since we last went (back in 2019), so I was excited to be back exploring. We went to a bunch of places, so there's a bunch of stuff I want to write about. Here's one post of many to come 🙂
iDOLM@STER is one of my favourite franchises, so before heading on my trip, I checked for any upcoming events . Sure enough, there was an exhibition at animate Ikebukuro called "アイドルマスター シンデレラガールズ ~ありがとうが集まる場所~". The entrance fee was 2000 JPY, and sure enough, I went to check it out. The exhibit at Ikebukuro has since ended, but the next exhibition is starting a little bit later in June within Osaka.
---
Inside, there were lots to look at. First, here's a map I got from the official event site.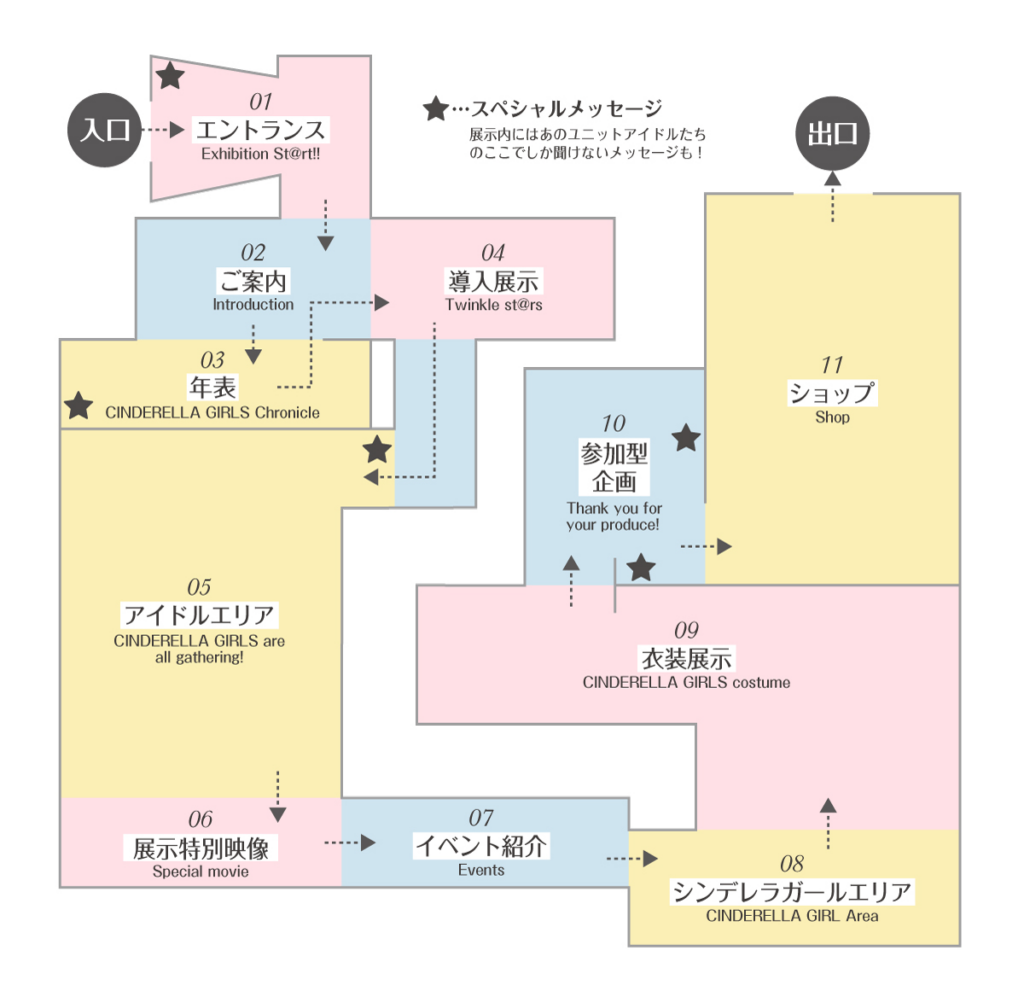 Since we're the producer, our desk is there, along with Chihiro-san, our assistant. Then, there was a timeline for the entire Cinderella Girls franchise. I forgot to take a photo of it. 🙁 My Japanese isn't great, but nonetheless, I took a stab at reading the timelines. It was cool seeing all the dates of the lives there, among other things.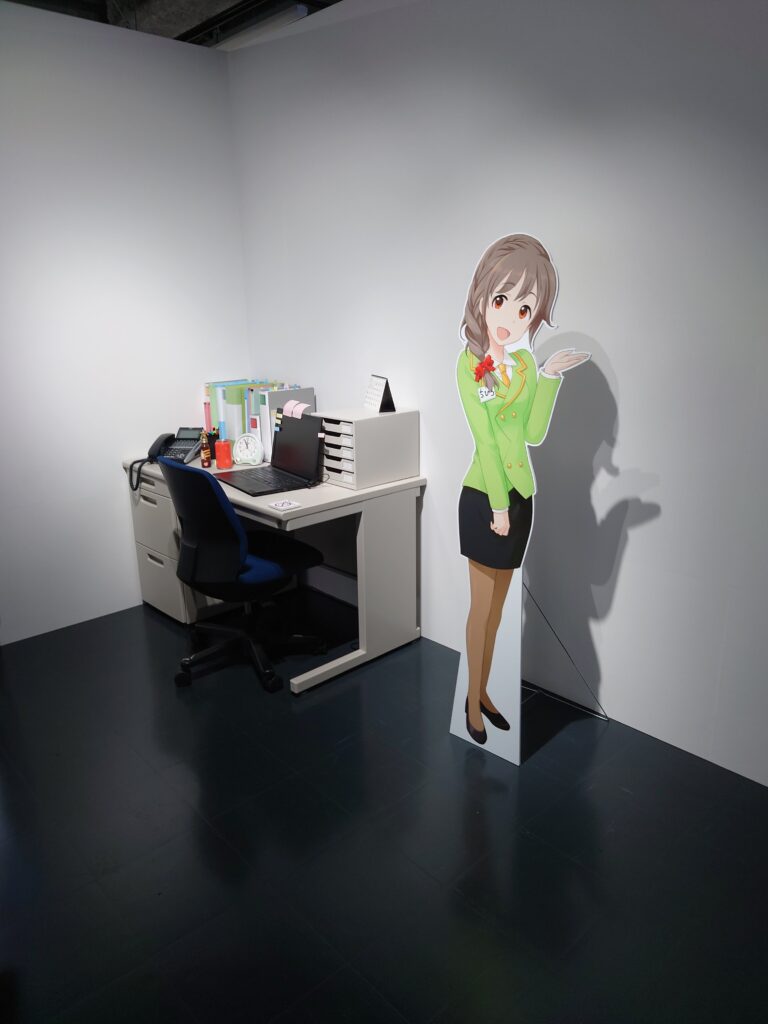 Following that, there was a display that was rotating through all the Cinderella Girls idols. Here, I managed to capture a few of my favourite idols, including Miria and Ibuki. There were a bunch of other producers also doing the same thing as me: waiting for their respective idols to appear and take photos.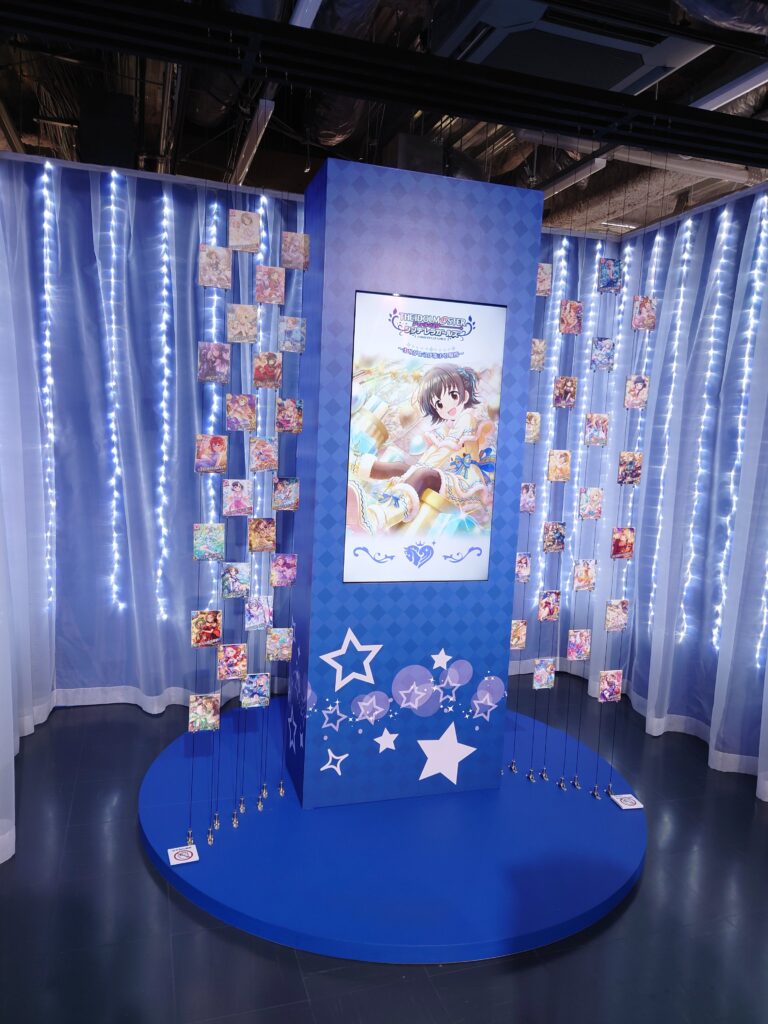 In the idol area room, there were framed pictures of numerous idols and the special MV they had playing. I took quite some time just walking around the area and admiring the idol illustrations: it was really cute and nice to look at. It really reminded me of the Azur Lane event I stumbled upon when I went to in Japan last time around, given the number of illustrations on display. There were even some chibi stands of all the cute, passion, and cool idols.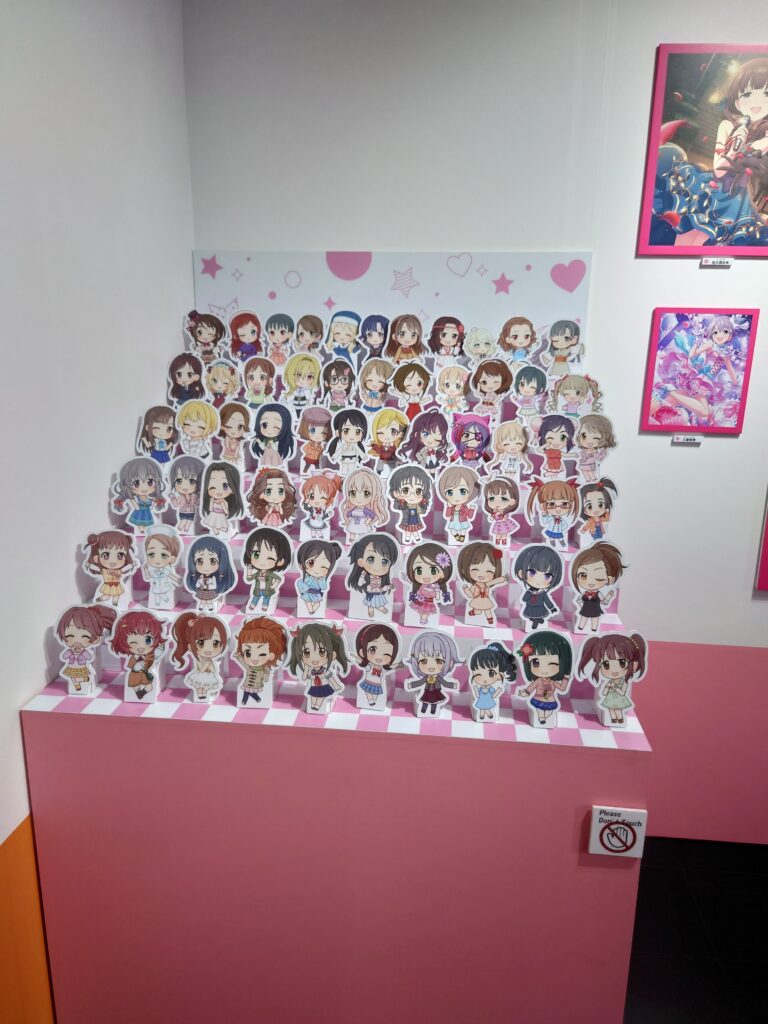 Past this area, we walk through the hallway of the Cinderella Girls mobage events, and then at the end, there were framed pictures of all the winners of the past 10 Cinderella general elections, in chronological order from top right to bottom left. I thought that was pretty cool.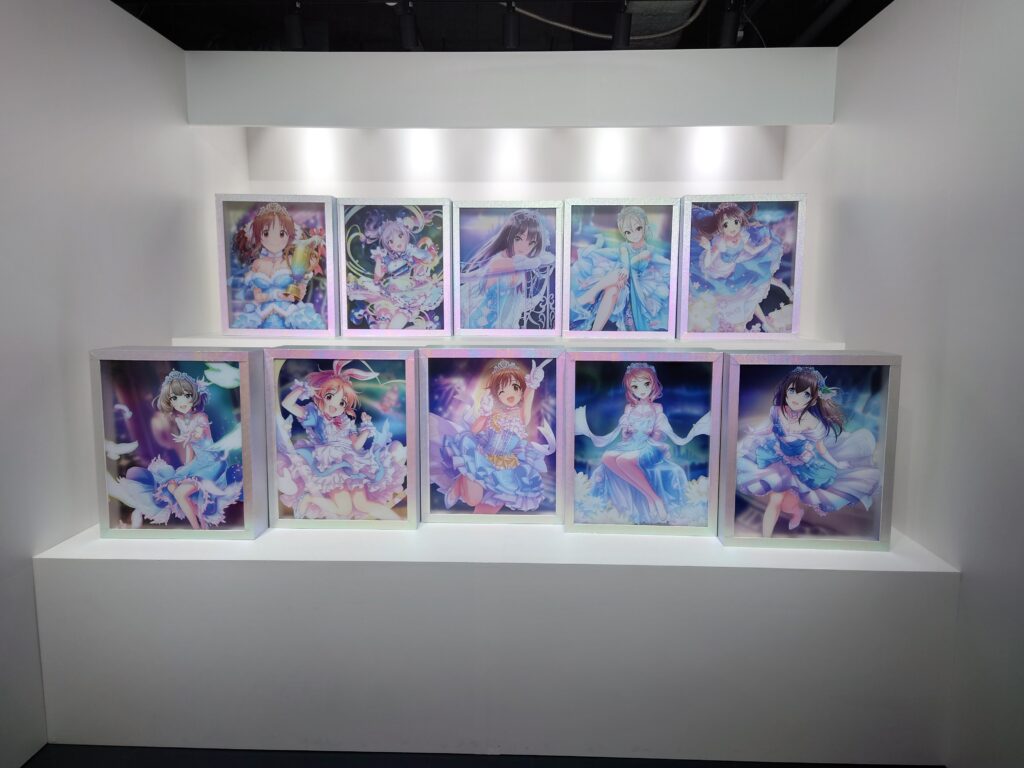 Making a left turn and into a doorway, I was met with displays of outfits that were worn from the various lives. Many of those outfits were also released within deresute as 3D Rich outfits. I took a close up of the 9th anniversary outfit (Connected Parallel) as well.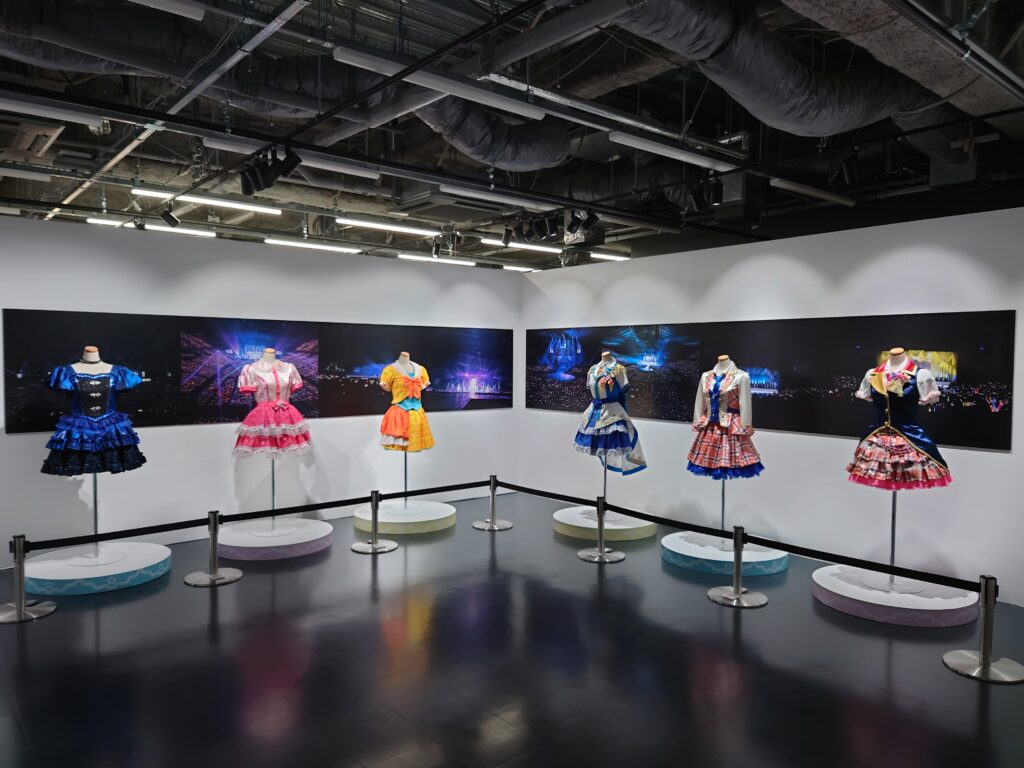 After the costume room, it was the final room thanking producers for their support. There were sticky notes for producers to write notes for cute, passion, or cool idols, and stick them onto a wall. On another wall, there was a collage formed from the mobamas cards, and an on-demand MV that producers can put their names on by scanning a QR code. Before heading out to the shop, there were three shikishis featuring words from the three VAs of Uzuki, Rin, and Mio, respectively. Personally, I really liked the collage: many producers were also taking a closer look to find their idol oshis. It actually made it quite hard to find a chance to take a photo of it without people constantly looking at it. 🙂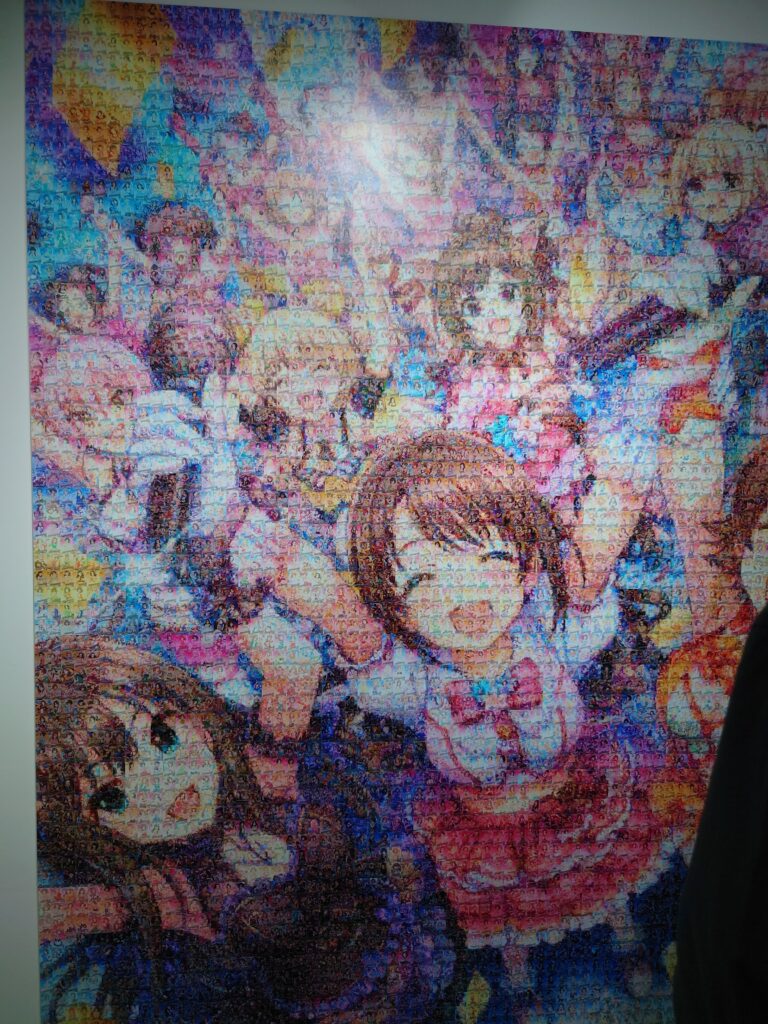 And there you have it! Coming out of the exhibition, I was met with the shop, where I bought some small key holders featuring Miria, Miku, Sachiko, and Karen (though this is for my friend Jeff, who is a KarenP). I also bought both wall scrolls, of which one of them is already up on my bedroom wall. The other one I'm still figuring out where I want to put it. 🙂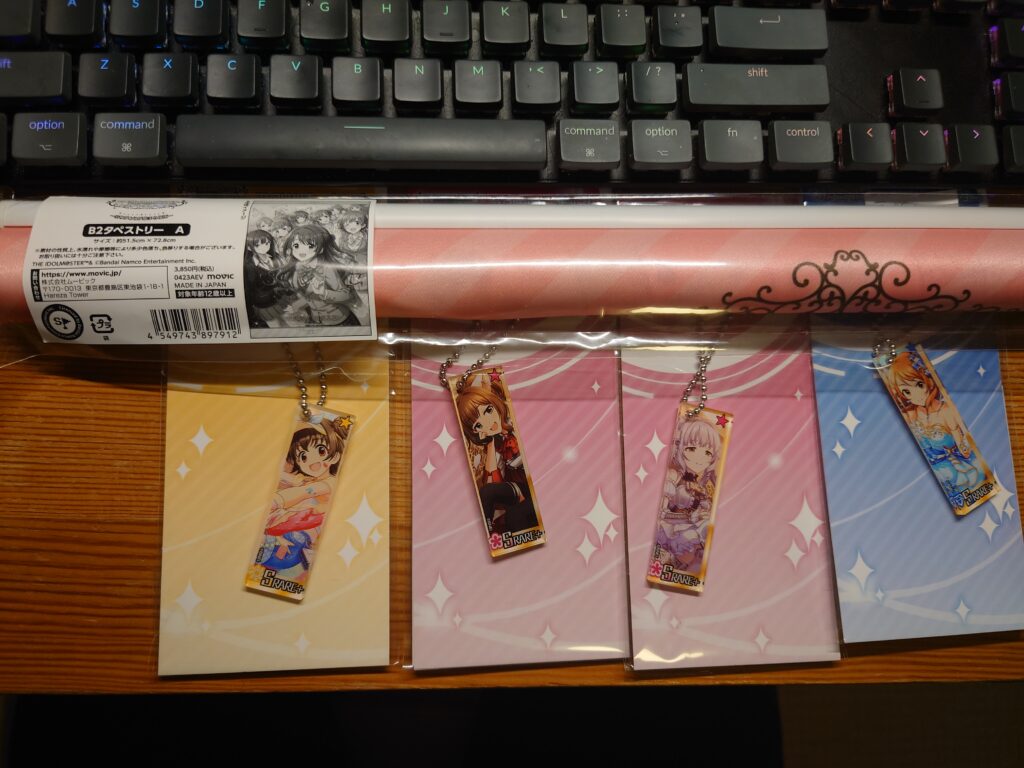 Anyways, that's all I got this time around. Lots of other things to talk about still! There's also another Cinderella Girls live coming up later this week, so I'll be staying up to watch the livestream.
Until next time!
~Lui