It's been a while since my last post, but hopefully you're staying healthy and doing well! As I alluded to in my 2021 year end review and some of my recent blog posts, with the help of our parents, my brother and I recently moved out in December. Thankfully, we live roughly a 3 minute drive from my parents' place, so we still go back frequently for dinner. Now that we've been out for almost five months, I thought I would give a small tour of our place and some of my thoughts.
For starters, my brother bought a place in an apartment building nearby. The interior living area is approximately 112 m2, or ~1200 square feet, featuring two bedrooms, a den, and two bathrooms. That means my brother and I (luckily) get our own bedrooms. The kitchen is a peninsula-styled open concept, which makes the space feel larger, and blackout blinds on the outside facing windows ensures that we don't get blinded by the sun midday, as we are facing south-west.
When we come into the suite, on the left side, we have our den turned into a home office. My previous standing desk is now my brother's, and I got another smaller version of my standing desk. I spared no time in spicing up my side of the office decor with the usual figure and now a wall scroll from Korie Riko-sensei's FANBOX to cover up the electrical panel. The figure I have on my desk is Kamiya Nao from iDOLM@STER Cinderella Girls, for which I'm in the process of writing a blog post for.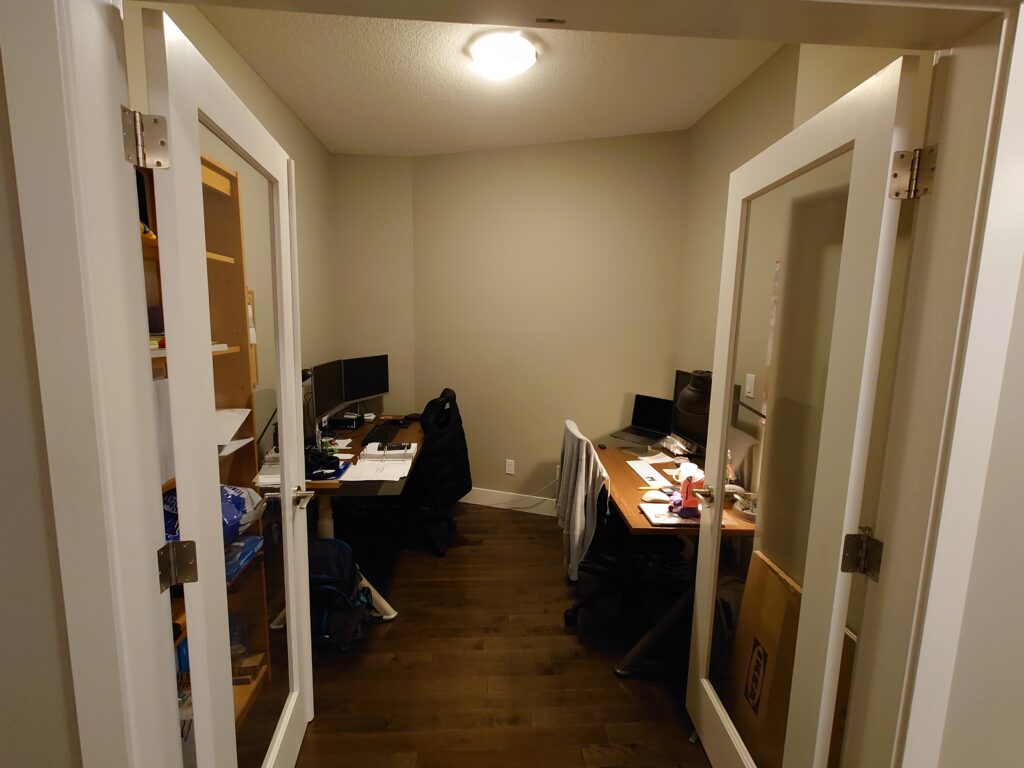 To the right of the entryway, we have our washroom at the end, with a closet on the right for guest coats and storage, and a washer/dryer laundry combo behind the left door. Having ensuite laundry is pretty nice, and I hear it's pretty standard in newer units as opposed to communal laundry in a building.
Coming into the unit a bit more, we'll see the living room area, which is now fully furnished. During the time, the global supply chain issues resulting from COVID-19 was and still is quite prevalent. Furnishing the place was a little bit challenging, but we did have some luck on our side. We went window shopping at a plethora of places, trying to get some inspiration on what would look nice, and also to find something we would like and ultimately in stock. The majority of places we visited had an 8+ month lead time on furniture. We did luck out and find a sectional and dining table that were both in stock at different places, so I bought them before our move in day and stored it at my parent's place.
I was also on the lookout for a TV after things were confirmed. Luckily for us at the time, it was nearing Black Friday and Boxing Day, so deals were starting to prop up. Given my satisfaction with the Xperia 1 II's OLED display, I decided to keep my eye on a 65″ Sony OLED TV, the A80J. We were planning to get it on Black Friday for ~$400 off, but there were none in stock at our local store, so we went in to ask if they could ship one over from another store a few cities over. Luckily for us, someone put in an online reservation at our local store but didn't show up, so we snagged the last one at the store and brought it home along with a Sony soundbar to complete our setup. Considering we live in an apartment suite, we can't really be playing loud music and what not, so having soundbar with a subwoofer seemed sufficient enough.
The TV and soundbar sit on top of an IKEA BESTA system configured it in a "U" shape. I think it looks simple and gets the job done. We actually didn't have doors on our TV setup for two months due to shipping delays. The upper two units on both sides are equipped with glass doors to give us more display room, while the bottom row is to be used as storage for board games, and other miscellaneous cables, with the centre box left open for my NAS and PC, which needs ventilation while in use.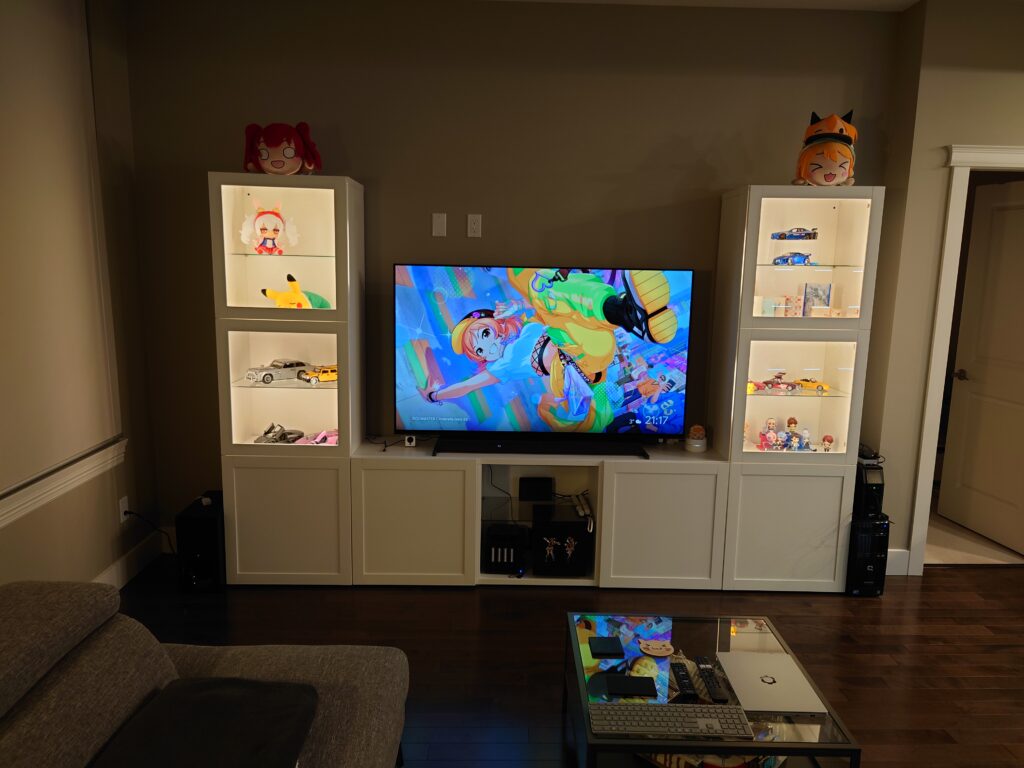 In between the sofa and TV, we have a glass coffee table from IKEA. We got it off of Facebook Marketplace a few months back, even before we placed an offer on the place. It's the IKEA SAMMANHANG, which they no longer sell anymore in Canada. We like its all around glass that lets us see everything inside. My brother uses it as a display case for his Old Trafford stadium set made of LEGO. Looks great, but too bad we can't put our feet on it. Oh well, it's a small compromise for a centrepiece.
Turning around, we'll get a view of our kitchen. As I alluded to earlier, it's a penninsula-style kitchen that is open to both the dining and living room. It's got lots of cupboard and drawer space for utensils, pots, pans, plates, bowls, and food. After putting our daily necessities in, we still have plenty of room to expand, so we're not worried about space yet. The appliances were in decent shape as well; they just needed some basic cleaning and disinfecting and they were good to go.
Beside the kitchen is our dining room turned display case wall. I moved my four IKEA DETOLF cases from my parents' place. Now that they are a centrepiece in our place, I have more opportunities to appreciate the collection I have, as opposed to before, where they were in my parents' family room that I didn't go to during the day, let alone during the weekend. I still have shelf room to play with, so I don't have to worry about space issues just yet.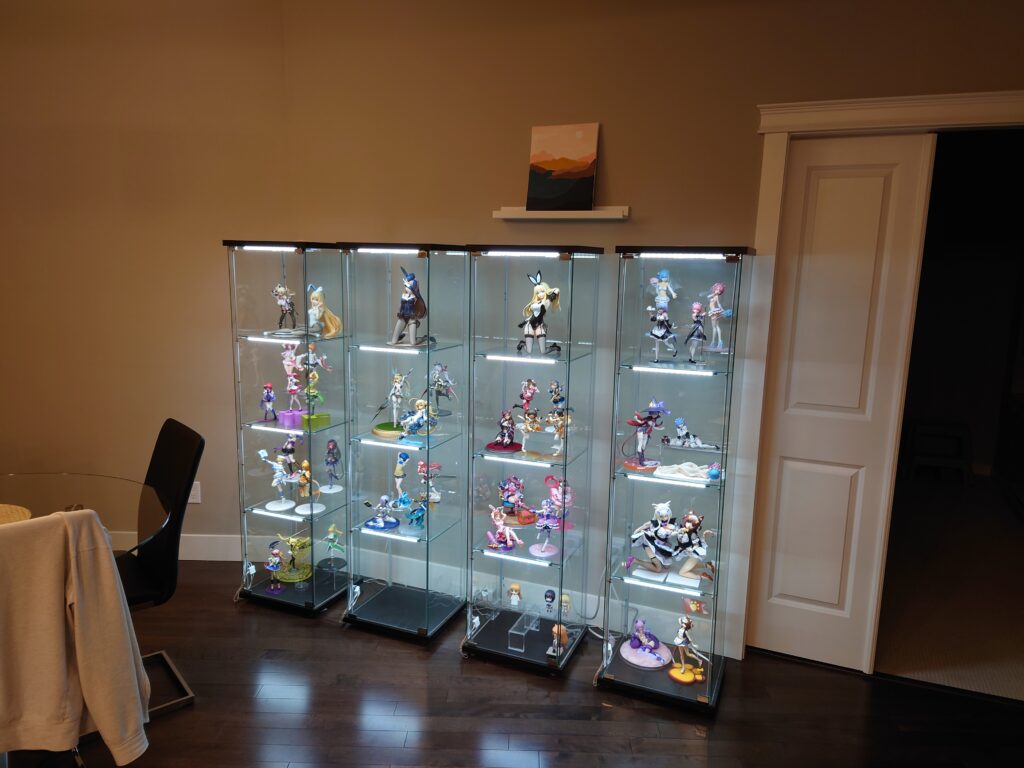 Moving to my bedroom on the right side of our unit, I didn't measure the exact size, but it definitely feels smaller. That's most likely due to the upgrade from a twin-sized bed to a queen-sized bed, which we also got at IKEA. I still have a corner full of posters, but I haven't fully filled the room with posters since sunlight still seeps through the blackout blinds. Until I get that sorted out, I won't be putting any more up. I have a desk in the corner which I occasionally use with my desktop if it's not in the living room, or now with my new Framework laptop, which I bought recently to replace my Surface Pro as my portable daily driver. I might touch upon that in a separate blog post in the future. I didn't bring my speakers with me cause I was concerned that the noise would travel and disturb others during the night. My "bedside table" is my old set of drawers, with my Google Nest Hub and white Kurumi (from DATE A BULLET) in her bunny suit sitting on top. I got her as a birthday gift to myself last month. Perhaps I'll write about her in a future blog post, but not sure yet cause there's many other things I want to have a thought dump for.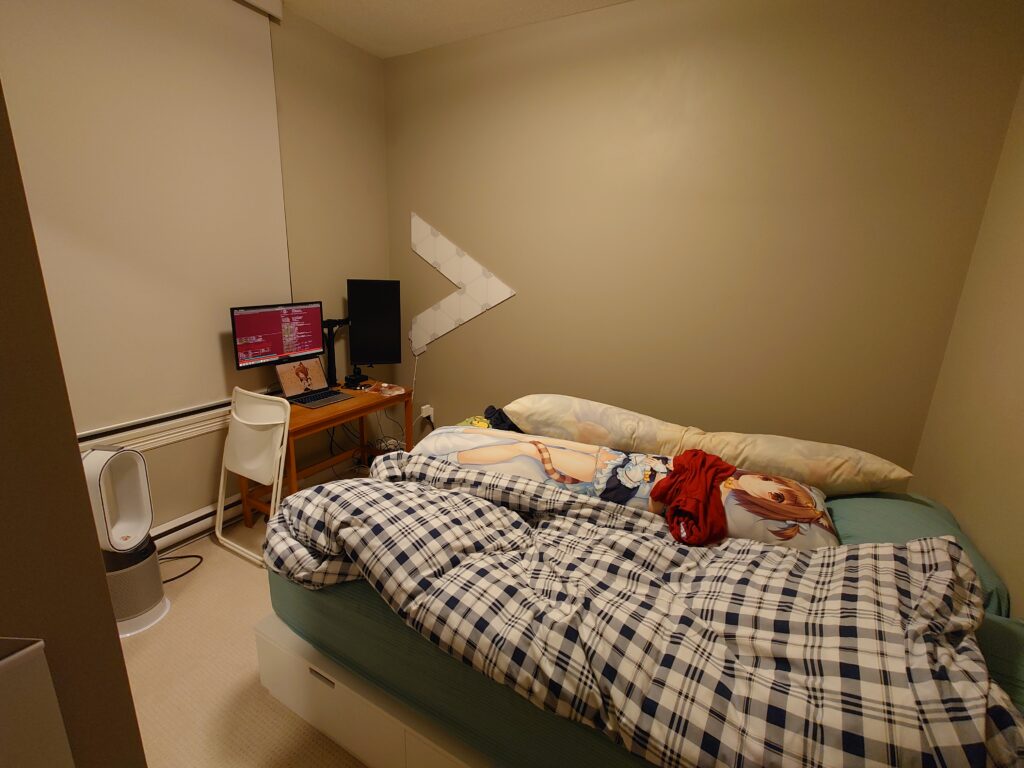 Anyways, that's a small little tour of our new place and my living area. My brother is paying the mortgage, so I'm just here chilling with him. Our financial situation is stable, so I'm able to continue saving up for my own place since housing prices in the Vancouver area are pretty ridiculous right now. Hopefully maybe in a few years, I'll have enough saved to buy myself a place and live life, but one step at a time. I don't really want to be locking myself into a mortgage right now.
Now that I've been out for 5 months, my routines have changed slightly. I've been spending a part of my Saturdays cleaning around our home. I'm responsible for vacuuming our place and my own bathroom, and that is some hard work to keep everything all nice and tidy. My brother and I used to be spoiled by my dad cause he did all the housework while we were working or studying, so I think it's good that we're having to deal with these kinds of things on our own. My parents also aren't around to make lunch for us anymore, so we've been cooking various things, from instant noodles with sausage and eggs to maccaroni and ham in soup, just to name a few. We still order takeout for lunch occasionally, especially when I have virtual lunches with my team. In addition, since I no longer live at my parents' place, I don't have access to the car, so when I need it, I ask my mom if I can borrow her Honda Civic. That said, my brother and I go back almost every day if not every other day, so I still see my parents quite often.
But yeah, there you have it: I've been "moved out" for five months now, and things are going smooth so far. I'll hopefully have another figure post coming soon, so stayed tuned for that. Until next time!
~Lui